Learning from San Juan's adaptive response to Hurricane Maria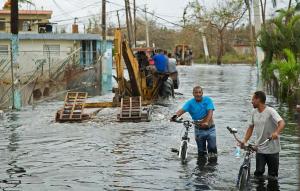 This Bloomberg Harvard City Leadership Initiative resource is designed to raise questions and generate discussion about the challenges associated with leading, adapting, and collaborating in times of severe crisis.  
The case profiles San Juan, Puerto Rico, Mayor Carmen Yulín Cruz and her efforts to respond to the devastating effects of Hurricane Maria. Following the storm's landfall, the city was faced with unprecedented damage and the loss of thousands of lives. Mayor Cruz and her team had no choice but to adapt and improvise while navigating a complex political environment in order to deploy city services and begin mitigating the effects of the storm.