Using the 'Bloomberg process' to solve problems by understanding residents' needs first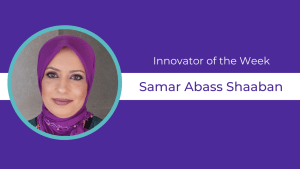 March 16, 2022
Title: Innovation Team Manager, Hazira
City: Sakhnin, Israel
Around Sakhnin, a predominantly Arab city of about 35,000 in the north of Israel, locals know Samar Abass Shaaban as the mother of public transportation. It was her advocacy as an urban planner and community organizer a few years ago that expanded a system from a single large city bus that often got stuck on narrow streets into a network of smaller mini-buses that run three separate routes. The mini-buses are easier for drivers to maneuver, safer for pedestrians who must share the road with them, and more convenient for passengers. Women in particular, Shaaban says, now have more ways than ever to get to work, see a doctor, go shopping, or run errands.
Now, Shaaban works for Sakhnin municipality as the director of the city's innovation team. It's one of eight such teams launched so far through a Bloomberg Philanthropies-supported program known as Hazira. Shaaban's team consists of six employees from across numerous city agencies who dedicate every Wednesday to innovation—and in particular, helping the departments that manage parks and revenue collections on improving services by reducing response time and increasing professionalism. 
To do that, they are using what Shaaban calls the "Bloomberg process," which to her means starting with residents and understanding their own perspectives on what they need from local government. To connect with residents, team members have gone out to neighborhoods, shopping centers, schools, and medical clinics to interview people and generate insights. Soon, they will engage residents again to develop concrete ideas for how to improve services and prototype those ideas to make them better.
It's not always comfortable for people in government to work in open dialogue with residents like this, Shaaban says. But one of the key insights team members took from the interviews was that residents truly value the interaction. "Residents told us, 'We don't come to the municipality just for the services. We want your smile. We want you to talk to us,'" she says. "Now we are very confident of the need to humanize our municipal services."
Pro tip: "What we do working for a municipality impacts residents' quality of life and can make the life of a family happy or sad. You must see this every day."