Toronto innovator uses tech to solve issues of housing and digital access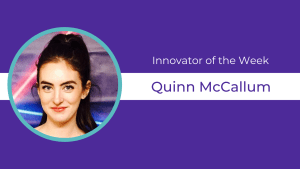 September 29, 2021
Name: Quinn McCallum
Title: Researcher, Customer Experience and Innovation Program
City: Toronto
Even before the COVID-19 pandemic hit early last year, the city of Toronto had identified affordable housing as a key priority. As the pandemic unfolded, the need to give residents more access to affordable places to live took on even more urgency.
For researcher Quinn McCallum and her colleagues on Toronto's Customer Experience and Innovation Program (CXi) team, the goal was to create a single online hub for residents and developers that would list available low-income units.
A major stumbling block: a general lack of housing data, a deficiency that has complicated policymaking in cities across the globe.
A member of the Innovation unit since April 2020, McCallum and her team leveraged community partners such as the Wellesley Institute, desk research, and in-person interviews with residents with lived experience with housing difficulties to create a series of low-fidelity mock-ups.
What become clear quickly, she says, was the need for a single website where potential renters and developers alike could access all the information they need—from pricing to financial and personal data. The city hopes to launch the site by 2023.
Another recent project for McCallum and the CXi team involved finding ways to narrow the city's digital divide. Again, the crucial element was involving residents from the outset. In this case, McCallum says the team unexpectedly found that using text messages was an effective way to communicate with households that might not have easy access to broadband. An initial public health prototype was used by more than 50,000 residents.
"I'm constantly surprised when we're in the ideation stage," McCallum says. "The key is to move beyond my own bias as to what the best solution might be and really listen to what works best for those who need the services."
Pro tip: "Have a completely open mind and really reach for the stars. And trust the process."