Data Watch: What cities need to quell mounting housing concerns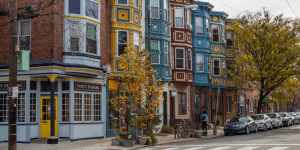 August 25, 2021
With the expiration of the Federal eviction moratorium approaching in October and billions of dollars in rental assistance yet to be distributed, millions of Americans are at risk of eviction.
According to the Census Bureau's Household Pulse Survey, more than 7.9 million Americans are behind on their rent, and nearly 7 million were unable to pay last month's mortgage payment. The Federal foreclosure moratorium expired in July, leaving many Americans in a precarious position.
The Pulse Survey has been run 34 times since it was created in April 2020 to measure housing security during the coronavirus pandemic. Looking at the most recent available data, 5.8 million renters and more than 3 million homeowners have "no confidence" in their ability to make next month's payments. With the economic recovery on shaky ground as Delta surges and moratoriums are coming to an end, residents across the country are at the precipice of what may be the most vulnerable housing period of the pandemic.
Housing security remains top concern in pandemic-weary America
Census Bureau survey reflects post-pandemic sentiment on housing security from individuals across the U.S.
Source: U.S. Census Bureau, Household Pulse Survey, Week 34 collection period: July 21 - Aug 2, 2021
There is little question that we are approaching a cliff. What remains to be seen, however, is how high that cliff will be—and that makes it even more difficult for city leaders to know what actions to take to try to stave off the looming crisis.
Without dependable and consistent data, we have very little visibility into the stability of American households. The Household Pulse Survey provides a snapshot of current sentiment—a point in time look amidst a major crisis—leaving us with, at best, an incomplete picture. It still leaves us with too little information to fully understand how today compares with previous, pre-pandemic periods.
For generations the U.S. government has invested in a diverse set of programs—from housing voucher programs to temporary cash relief—to provide relief for renters and homeowners who experience housing insecurity. But the program data is not centralized, there are no standards that cut across programs, and there is no central location where local government leaders can find comprehensive, real-time sets of data to analyze and develop sustainable housing strategies.
In most cities, data on evictions is not publicly available. In those cities that release data, it varies greatly. Some localities collect at the city level, others at the county level. Some are updated daily, others much less frequently. And while some provide case level details, others publish only broad trends.
Furthermore, much of the eviction data includes only those cases that make it to court. Like homelessness statistics and home foreclosures, this gives only a partial picture of those in the most dire circumstances. This is data that doesn't help local leaders intervene before household stability is deeply distressed.
What we truly need is to assess these issues from a systemic lens and address the causes before people experience the worst outcomes. At the point when residents are homeless or find themselves in court, it is often too late for local authorities to effectively intervene.
With an uneven economic recovery, it will take time for many homeowners and renters to fully recover, particularly in vulnerable populations. The end of the eviction foreclosure moratoriums are likely to hit Black and Brown communities harder. Without assistance, too many may end up defaulting on their mortgages, forced out of housing, or living in shelters.
What can city leaders do to prevent current housing insecurity from becoming a full blown crisis?
First, of course, municipalities should distribute available rental assistance funds quickly, and ensure that other aid to homeowners and renters is easily accessible by those that need it. This will require city leaders to partner with state housing agencies, develop shared goals, create infrastructure for rapidly deploying resources, and focus on making sure relief finds those who are most in need. A number of cities have developed innovative strategies around each of these goals.
Just as importantly, city leaders must take a more proactive approach to tackling housing problems before they lead to homelessness and displacement. Local governments can and should leverage available resources in search of early signs of economic distress. This is the only way to get ahead of the curve.
Cities have a large amount of data they can use in this effort. Here are five helpful data sets that city leaders should look toward to help identify residents who are at risk:
Housing assistance applications and backlogs:

Families that are applying for assistance are often eligible for home-saving measures. Local leaders should track applications closely and work with state programs to ensure they can assist families seeking help.

Eviction hotlines and 211:

These can be invaluable information about housing insecurity. Government leaders should consider establishing data sharing agreements with partners like the United Way or local NGOs responsible for helping residents navigate services.

Housing code violations:

This data is usually available in cities that issue violations. Households that default on regular maintenance or are unable to keep in compliance with local ordinances are often doing so because they lack the resources to keep the house up to code. Cities should track violations and offer assistance.

Utility payment defaults:

These

are an early warning sign that economic hardship is settling into a household. Local leaders should look at water and electric defaults in particular. This data can be found in arrearage assistance applications or from data sharing agreements with local utilities.

School enrollment data:

As school returns, school systems will have granular data on families that are no longer attending consistently, or children who do not show up on the first day. This data is an indicator of housing instability among families.
While the federal government continues to work with state and local teams to ensure a safe and resilient economic recovery, they must think about how to provide local leaders with more consistent and strategic data. Federal housing and safety net programs need to standardize how they capture the reality of living in our communities while individuals navigate economic distress. The fractured approach we have now makes recovery more difficult especially for our most vulnerable populations.