How cities are ramping up rental relief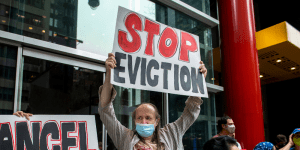 August 18, 2021
City leaders and housing advocates have spent the past year and a half working overtime to protect vulnerable residents from being evicted from their rental homes in the middle of a deadly pandemic. But this summer they're losing one of the most powerful tools at their disposal: a federal moratorium on most evictions issued by the Centers for Disease Control.
Although the White House has reinstated the moratorium for areas that are experiencing an uptick in COVID-19 cases from the more contagious Delta variant, advocates say the writing is on the wall. The eviction moratorium won't last forever, so city leaders are now looking for ways to quickly and equitably distribute the  $46 billion in emergency rental assistance funds authorized by the U.S. Department of Treasury.
"A federal court could strike down the eviction moratorium at any time," says Sarah Saadian, vice president of public policy for the National Low Income Housing Coalition. "So, cities and states should be thinking about the time during the moratorium as an unexpected reprieve."
Some states have had more success than others in getting the billions allocated through the Emergency Rental Assistance Program (ERAP) to people who need help, Saadian says. States such as Texas and Virginia have already managed to distribute about half the funds they've received, while 28 other states—including Louisiana, Minnesota, Ohio, Alabama, Florida, Oregon, and New York—have yet to pay out even 10 percent of the funds.
The clock is ticking. Beginning at the end of September, Treasury will be able to recoup some funds that are unspent in certain jurisdictions and reallocate them to others, under the terms of the law that authorized the ERAP programs. So, cities and states have a range of incentives to move quickly. The most effective programs, Saadian says, are those that are well-advertised, easy to apply to, and targeted to people at the highest risk of homelessness.
Here are some of the strategies cities have used to get money out the door quickly and effectively.
Streamlining applications
Beginning last spring, cities used various pots of funding, including federal CARES Act relief money, to create locally based rental assistance programs. Many of those programs had complicated documentation requirements, both to protect against fraud and to assure that limited funds were going to tenants who most needed them. To move more quickly, cities have stripped down the application requirements. Many are following Treasury guidance allowing applicants to "self-attest" that they are eligible for the program, rather than requiring documentation of income loss, unemployment, household members, or lease terms.
San Antonio's rental-assistance program was recently ranked as the most effective in Texas by the nonprofit advocacy group Texas Housers, which evaluated programs based on the rate of disbursal, prioritization of households in greatest financial need, and aid to Black and Latinx households. The city has made a number of improvements to streamline the program since the successful local version it offered early last year, says Veronica Soto, director of San Antonio's Neighborhood and Housing Services Department. In its outreach, the city has made clear that applicants don't need to have a Social Security Number or a state- or federally-issued ID. It sped up the average application processing time from roughly 30 days to around 10 days, Soto says— though the time grew to about 20 days after a surge of applications following the expiration of the CDC eviction moratorium. Allowing applicants to sign self-attestation letters explaining their hardship in lieu of strict documentation makes the process significantly smoother. According to the Texas Housers report, cities that don't allow for self-attestation have distributed far fewer payments to tenants.
Honolulu has opened its Emergency Rental Assistance Program in four phases, accepting around 22,000 applications since April and paying out around $50 million so far, more than 85 percent of which has gone to tenants earning less than half the area median income, according to the city's Office of Economic Revitalization. The phasing strategy allows the city to collect applications in manageable numbers and process them more quickly, says OER Director Amy Asselbaye. The program also uses an automated fraud detection service which gives every application a fraud "score," sending those with the most red flags to the most experienced workers and cutting down on processing time.
Working with trusted organizations
Many cities have turned to networks of community-based nonprofit organizations to help administer rental assistance programs, both in terms of outreach and disbursal of funds. Philadelphia has contracted with the Urban Affairs Coalition, Public Health Management Corporation, and UESF to serve as payment vendors, because each of those groups has established ACH payment infrastructure, says Greg Heller, executive director of the Philadelphia Redevelopment Authority. Newark, N.J., is working with five neighborhood-based groups that will be going door to door to spread the word. Harris County, Texas, and its biggest city, Houston, joined forces with each other and with the local Catholic Charities chapter to run combined outreach operations, cutting down on duplicate applications and taking advantage of a bigger staff to process payments.
Honolulu worked with a group called We Are Oceania to help around 200 Micronesian families apply for rental assistance who otherwise likely wouldn't have known about it, Asselbaye says. Furthermore, she says that digital outreach directly from local organizations can be more effective than the city's webinars. One case manager signed up eight applicants in a small North Shore community after running a short video on Facebook Live, for example.
"Being coordinated with people who understand our diverse communities and their particular needs well, and having good communication with them, is the key for our work," Asselbaye says. "There's the technology on one side that keeps us moving and moving faster, and then there's the people."
Tracking data and reaching the most vulnerable
Cities have used data to provide transparency for their rental assistance programs and to make them more equitable. Philadelphia, which has so far distributed $135 million to 25,000 households, updates an online dashboard every week showing how many applications have been received and paid out. That kind of data helps cities track where funds are going, as well. Harris County's dashboard shows distributions overlaid onto census tracts and sorted by a CDC Social Vulnerability Index as well as an index for prioritizing assistance developed by the Urban Institute. In Newark, officials noticed that there was a high rate of unfinished applications in Spanish and Portuguese, which led them to reach out specifically to those applicants to help them finish the process, says Jerrah Crowder, the city's Affordable and Sustainable Housing Manager.
Harris County has used demographic data to identify gaps between the amount of funds distributed to certain neighborhoods versus the likely need in those areas based on income and other indicators of housing vulnerability. In an early round of rental assistance, Chicago received applications from around 83,000 tenants; it kept that list and contacted everyone on it when later funding rounds became available, according to the city's Department of Housing.
And many cities have created partnerships with local courts to help tenants who are facing eviction proceedings sign up for potential rental assistance. The Houston/Harris County ERAP application includes a space for a case number so that assistance can be linked to an eviction proceeding, and help landlords and tenants work out an agreement that doesn't result in a lockout. Philadelphia's courts have required landlords to attend mediation with their tenants and apply for rental assistance on their behalf before filing an eviction. Honolulu has created a "back door" to its rental assistance portal for legal aid attorneys working with tenants facing eviction. Even after the public portal closes, Asselbaye says, the city is hoping to keep that back door open so that tenants in the most dire situations can find help.
"The benefit of building these networks and making the effort to regularly communicate extend beyond the rent program," she says.