​
Teleworking, and what one city is learning about working from home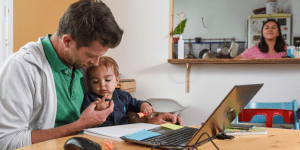 Way back when, in the pre-pandemic days of early March, Kansas City, Mo., was a lot like other local governments when it came to telecommuting: There was no comprehensive policy to speak of.
Then came stay-at-home orders, social distancing, and all the other sudden changes that turned the world upside down. Within a week, a few hundred city employees had decamped from City Hall to work from home. Now, that's up to about 800 workers — roughly 17 percent of the city's workforce and most of those who aren't out handling emergencies, trash pickup, water, and providing other essential services.
As Rick Usher, the city's assistant city manager, puts it, "One thing this crisis has done is really dropped everyone's inhibitions about embracing change and trying something new."
Critically, Kansas City has built learning into its pop-up telework program by surveying its newly remote staff every other week. The surveys provide a public record of how this transition is going, as well as key insights for leaders like Usher and his colleagues in human resources, IT, communications, and others charged with managing a whirlwind experiment.
And as it becomes clear that many city employees will be working from home well into Kansas City's "soft reopening" and beyond, the surveys are feeding into what is likely to become a more permanent telework policy.
[Get the City Hall Coronavirus Daily Update. Subscribe here.]
At first, the surveys, which use a simple Microsoft Form, were focused on finding out what technology and internet connectivity employees are using to work and what communications tools they're using to keep in touch with their teams and supervisors. Later surveys went deeper into questions about how working from home is going for people in terms of work culture, productivity, and whether they're interested in keeping it going.
The results have been encouraging. Roughly 85 percent of employees who've responded have said they're satisfied with their work-from-home arrangement (that includes people who work in a supervisory role). Nine in 10 say they feel at least as productive or more productive as when they work in the office, and 97 percent have said they are interested in some form of telecommuting going forward.
Some measures have been changing over time. In the first survey, for example, only about 30 percent of employees said they had used video to connect with their colleagues; now that's up to almost 80 percent.
Bo McCall, an analyst with the city's DataKC performance management team, is in charge of administering the survey. Employees have been eager to participate, he said, in part because they're accustomed to the city's data-driven approach to management. In public administration circles, Kansas City is well known for its annual citizen satisfaction survey; the city regularly conducts surveys of employee engagement.
[Read: 5 secrets of successful community surveys]
"I don't think the survey response would have been as strong if we didn't already have a data-informed culture here in Kansas City," McCall said. "It's a little less jarring for employees to be taking a survey every other week when they know the information is being utilized by decision makers."
The next survey will take stock of what remote employees think about returning to work. That will lay the groundwork for changes in the emergency telecommuting policy that's been in place since March and will help shape a more permanent policy when things return to something closer to normal.
"Employees are telling us how it's benefiting them in so many ways," Usher said, while noting that some also are reporting challenges with work days that seem to start earlier and end later than they used to. In the future, he can see how teleworking could fit into strategies on goals like improving air quality. On days when air quality is bad, for example, the city could ask some of its employees to work from home in order to take cars off the road. "We have the tools now to make that an automatic occurrence," Usher said, "and it wouldn't cause any delay [in the city's] ability to continue providing services."