Tech volunteers ready to tackle any city's COVID-19 challenges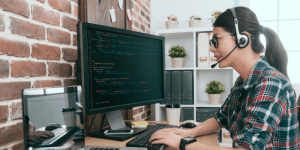 May 12, 2020
For all the ways people are stepping up to help communities respond to COVID-19, there's nothing quite like U.S. Digital Response. It's an all-volunteer startup that is connecting pro-bono technology teams with state- and local-government efforts to fight the pandemic. This 5,000-person team comes from all over the country and is ready to put its experience — in engineering, data science, operations, supply chain management, marketing, and more — to work on pretty much any challenge cities want to throw at them.
Since the COVID-19 crisis began, the group has worked with more than two dozen government partners and delivered about 75 projects. Those include helping cities set up their coronavirus websites, move services online on the fly, and match vulnerable populations with volunteers who can deliver them food.
The group was co-founded by Jennifer Pahlka, who started Code for America; Cori Zarek, Director of Data and Digital at Georgetown University's Beeck Center for Social Impact and Innovation; Ryan Panchadsaram, who helped lead the team that relaunched healthcare.gov; and Raylene Yung, a recent fellow with the Aspen Institute's Tech Policy Hub who serves as the organization's CEO.
We caught up with Yung to find out more about how cities can partner with U.S. Digital Response.
What is U.S. Digital Response, and how did it get going?
The four of us came together pretty organically. I was just finishing the fellowship, and I think Jen, Cori, and Ryan have known each other a long time, so they were already assembling. They're all very much in the gov-tech world. I spent my entire career with private tech companies, working at Facebook and Stripe for about a decade. So I'm more of an outsider.
The thesis was: Can we use more volunteer private-sector help to help the government in this crisis? We think we can collect talent, and let's see if we can collect needs from government groups and then help them however they need help.
There's a lot of first-time gov-tech people involved in this. It's not just calling in troops from the US Digital Service and 18F, although there's some of that. But it's a lot of first-timers who were coming from Airbnb and Facebook and Dropbox and Stripe, who've never done anything in gov tech, but are deeply experienced in scaling products and hiring engineers and all of that. It's been this mind-meld of people with that experience and then people who are more well-versed in government.
Who are all these volunteers and what's motivating them?
Well, it's 5,000 people, so there's a lot of reasons. The bulk of them are happy to volunteer nights and weekends, or they're in between jobs. There's a decent number of people who are freelancers or consultants and had some project work dry up so have had more time to volunteer. No one's getting paid, myself included.
We have one guy who recently joined, who had just retired within the year. He was a COBOL mainframe programmer maybe 10 or 20 years ago, and saw the call the New Jersey governor put out for more mainframe programmers and signed up to volunteer through that. People want to see how they can be helpful in this time.
[Get the City Hall Coronavirus Daily Update. Subscribe here.]
It is very purposely not a free-for-all. We actually interview every volunteer we place. For some volunteers that's really attractive because they know they'll get picked for projects match their skills.
How do cities who have tech projects for you access this network?
We have an online form on our website, and if you sign up, we'll get back out to you within a few hours. From there, we schedule a call to get to the meat of the problem you'd like help with and then quickly figure out how we can help.
What themes are you seeing in the sorts of things cities need help with?
In the beginning, a lot of it was around communication and information. Everyone was setting up their coronavirus.gov city websites just to help people figure out things like, 'Are the schools open?' We pulled together a really nice style guide and sample website. The idea was if you were a city official, you don't need to reinvent your own COVID content. You can actually just copy-paste what we have, or use it as inspiration.
The second wave was around healthcare data and information. This is everything from tracking cases to tracking hospital supplies like beds, ventilators, and personal protective equipment. There are a lot of people doing stuff in that space. So we did a lot of connecting people with existing tools. And then we also had a bit of a SWAT team that could go into your system and look at your data sources and help you automate and make better dashboards.
Another big wave was benefits — unemployment assistance, paycheck protection program, EBT. We've done a lot of work on either helping the government communicate what residents are eligible for, or helping them debug the IT systems and scale their back-end systems.
Now, a lot of the work is around recovery — when to open, how to do contact tracing. It's back to communication, where you have to update all your sites and keep the information accurate.
What are some concrete projects you've done with cities?
A big area is digitalization, where the cities had to go digital because their employees were at home and they were still relying on wet signatures or paper-based workflows. We can help you understand what workflows you're doing today that involve paper and what tools you can use to replace all of those paper, in-person steps. And then we'll train your IT team or other team to then cut over to the new system. We did this with at least two or three cities. A lot of teams will really enjoy being able to have digital workflows and new tools — they won't go back to the way it was before.
We've helped at least three cities set up tools to match volunteers with opportunties to deliver food to homebound senior citizens. They set up a website, customize the text, and we can get it up and running within days. Then they are able to put out a call for local volunteers, vet them and match them with opportunities in their own city. That's been really neat because these are often not technical teams. They've been sending out mailers or using a spreadsheet and calling people. And this automates a lot of what used to be manual work.
We used this same way of working to match healthcare workers who were retired, or people that were just taking time off, to match them with hospitals. We worked with Louisiana to do that and it was quite successful.
What's a good role for mayors to play in this tech arena at this time?
I think the call to action for a mayor is, as you're seeing which of your service-delivery systems or your operational teams are being really strained, is there a role that technology can play in meaningfully changing the story there?
The example of delivering meals to senior citizens — it feels more like a community operations problem than a technology problem. But the technology really empowers the service teams. Or in hospitals or homeless shelters, where they're trying to count the beds and tally people — a mobile web form where you input the data can automatically centralize and share that data.
What's been really satisfying is working not just with the innovation and technology teams, but also with human services, food services, the aging department. There are a lot of areas where technology applies a lot more broadly than people traditionally envision.
As someone who's new to the gov-tech world, what's surprised you in this work?
I have a lot more empathy for how hard the job is and how much work it requires. When the crisis comes and you have 10,000 percent more requests for benefits — or hundreds of thousands of people calling phone lines that were designed for thousands — it just adds so much work to the people who are really overworked. It's been pretty eye-opening.
Another thing that a lot of people on my team have commented on is how disparate all the systems are. Every city actually does things pretty differently. We've been in touch with several states on helping them debug their unemployment insurance benefits, and we realized there's not good forums for them to actually talk to each other regularly. Each person is so focused on their own city or their own state. The more standardized the systems are, the easier it is to help them scale and share information and use best practices.
Photo courtesy of Shutterstock