Solution Spotlight: Turning garden waste into a carbon sink in Stockholm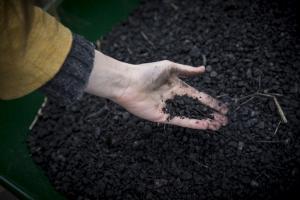 February 19, 2021
In the fight against climate change, Stockholm is looking to an unusual place: fallen tree branches and other garden waste from the city's parks and residents' yards.
Sweden's capital city turns all of it into something called biochar. It's a charcoal-like material (pictured above) that captures carbon from the atmosphere, while doing double-duty as a soil conditioner that stimulates plant growth. Stockholm's initiative to produce it is an innovation that cities around the world can learn from as they ramp up their own actions aimed at reducing greenhouse-gas emissions.
The key to Stockholm's approach is a biochar plant built in 2017 after the city won €1 million for the idea in the Bloomberg Philanthropies Mayors Challenge. The facility uses a high-temperature carbonizing process called pyrolysis to turn garden waste into biochar. Since the plant opened, it's produced more than 100 tons of biochar. The pilot plant has the capacity to lock away carbon at a rate equivalent to removing 700 cars from the city's roads per year. In addition, the plant is hooked up to the local heating grid, with the capacity to provide renewable heat source for up to 80 apartments each year.
When mixed into soil, biochar helps retain nutrients and moisture, enabling gardeners and landscapers to grow stronger, healthier plants. Stockholm deploys the material across the city in plant beds, where it absorbs stormwater while boosting growth of street trees. The city also gives away biochar to residents who use the material in their own gardens; residents also restock the biochar plant with more yard waste, completing the cycle.
Biochar has become an integral part of Stockholm's fight against climate change and a critical way the city gets residents involved in that. The production and use of biochar is written into the city's Climate Action Plan as a key pillar in its strategy to reach net zero emissions by 2030. Stockholm is now discussing plans to build a larger biochar plant that can scale up production.
Stockholm's Biochar Project has generated interest from cities and universities around the world. More than 2,000 visitors have come to learn from Stockholm's model, including city leaders from across Europe and as far away as Minneapolis and Hong Kong. Sandnes, Norway, is producing biochar using learnings from Stockholm, and a number of cities in Sweden are considering developing local biochar plants, following Stockholm's example as a carbon-sink technology that has the potential to engage residents in the fight against climate change. 
Learn more from Bloomberg Cities:
Stockholm biochar project, a Mayors Challenge winner, opens its first plant
Inspired by Stockholm's success, a U.S. city goes big on biochar
Learn more from Stockholm:
About the Biochar Project (Stockholm Department of Water and Waste)
Uses for biochar and impact on tree growth (Stockholm City Parks Department)
A testimonial from Bjorn Embren, Stockholm's lead gardener (The Biochar Journal)
Use of biochar at the Stockholm Royal Seaport (2018 Sustainability Report)
(Biochar photo: Casper Hedberg)