​
Sharing innovations that were created in crisis but built to last
A dozen city innovators share bold ideas borne from a difficult year that can help cities come back stronger than before.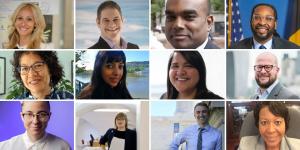 Next week, thousands of innovative city leaders from around the world will gather online for CityLab—the leading global summit dedicated to exploring solutions to the most pressing issues facing cities today. Held virtually for the first time, CityLab will be an opportunity to reflect both on the difficult year and on the many ways cities stepped up in response to it. It also will be a forum for sharing bold ideas borne from crisis and accelerating the spread of solutions that can help cities come back stronger than before.  
With that in mind, Bloomberg Cities asked a dozen city innovators who are attending CityLab one question:
"What's an innovation in your city that started in response to one of 2020's many crises that you think will have a lasting positive impact for residents—and why?"
Here's what they had to say.
In September, the city of Long Beach began offering COVID-19 mobile testing in hard-to-reach communities. While we already had mass testing sites at well-known locations across the city, we realized not everyone had access to these places or felt comfortable with them. Partnering with community-based organizations, we were able to offer testing near neighborhood markets, parks, and other spaces where older adults and non-English speakers were known to feel more comfortable. By December 31, the City of Long Beach had conducted over 500,000 COVID-19 tests at all of our locations. 
By establishing a mobile COVID-19 testing system, we laid the groundwork for mobile COVID-19 vaccinations for these same communities, starting a few weeks ago. Ideally, these efforts will strengthen community trust of local government while establishing stronger lines of communication as we begin to recover from COVID-19, leading to a lasting positive impact for all residents.
Like just about every city, Baltimore had a sudden need last year for rapidly scaled contact-tracing capacity. At the same time, thousands of residents were losing their jobs, with whole industries evaporating almost overnight. Baltimore Health Corps was our answer to these crises.
This contact-tracing and employment-development program will have a lasting impact for residents because it's expanding Baltimore's permanent ecosystem of community health professionals. Our staff receive training and career supports throughout the program, preparing them for good jobs long after the pandemic is over. We're only halfway through the program, but already two in three staff use our career navigation services.
Maybe the biggest lesson is how critical strong partnerships across agencies and sectors are in a crisis. Baltimore enlisted more than 20 funding and implementing partners for Health Corps, and every one of these partners was vital to our success. Innovation is a team sport.
Just before the pandemic, the city of San Pedro launched "Sam Petrino," a chatbot for the public to make service requests and receive follow-up using the WhatsApp messaging platform, which everyone in Mexico uses. As soon as the first case of COVID-19 was detected in our municipality, we expanded the chatbot's scope to cover specific issues stemming from the pandemic. This included the option to report breaches in COVID-19 protocols or to register for temporary support, such as food assistance, medicines, and financial aid for small businesses. We even created a text hotline with our public safety department to deploy immediate assistance for domestic violence reports. 
As of today, we are preparing Sam for their next mission: Registering and confirming appointments to receive the COVID-19 vaccine. This chatbot has streamlined processes and increased efficiency by automating tasks and optimizing municipal human resources. Sam is a groundbreaking tool that has helped strengthen the public's trust in the city's public services by raising the standard for transparency, efficiency, and citizen engagement.
Boston is an old city with a very racist past. When Mayor Walsh hired Dr. Karilyn Crockett as our first Chief of Equity, it was a significant innovation in that it was a realization that racial Inequality in our city is a deep and entrenched problem that must be dealt with head-on. Further, by coupling this new role in city government with a declaration that racism is a public health emergency, Mayor Walsh created a context for leveraging the full might of Boston's social, financial, and civic capital toward solving this issue. While these changes are still being developed and implemented, by embedding them into the very structure of local government it will ensure that they become a part of the way Boston works moving forward.
The COVID-19 pandemic and its many devastating impacts on people's lives challenged us to find new, innovative ways to support one another. The Seattle community stepped up in generous, creative, and inspiring ways—whether that be through individuals, community organizations, philanthropy, and businesses giving of "time, talent, and treasure" or through providing artistic and cultural content and experiences to vulnerable populations. Seattle Together was launched as a citywide initiative to uplift these stories, help link people to needed resources, and serve as a much needed connector to address social isolation.
Today, the online platform is rich with stories of resilience, art, testimonials, opportunities to volunteer, and ways to get engaged. It highlights Black, Indigenous, and other people of color who are working to equitably meet the needs of the Seattle community. Seattle Together continues to serve as a vibrant organizing strategy to move city resources in alignment with community resilience movements.
As hundreds of our neighbors in Pittsburgh became more vulnerable because of the effects of the COVID-19 pandemic, it became clear that using direct cash payments was the best way to quickly get aid into the hands of those who need it most. The city received a grant of $500,000 and partnered with several local organizations that serve immigrants to create our first-ever direct payment program. Critically, it allowed for vulnerable families who were not eligible for federal stimulus checks or local funding because of their immigration status to receive unrestricted assistance. 
The idea and success of allowing our most vulnerable residents to decide what their money should go toward is the best poverty-alleviation program. This partnership is further proof of the need for guaranteed-income programs, like the one we're creating in Pittsburgh, that will directly address economic disparities between Black and White residents.  
Among so many things that came out of 2020 was the renewed power of collaboration. This was true for so many teams, and for us as well. The Innovation team was able to work together with San Francisco's Committee on Information Technology, Digital Services, and DataSF teams to conduct a city-wide service inventory. This allowed us to have a clearer understanding of where we are now and identify opportunities ahead. It helps us understand where we can work collaboratively with departments and city partners to ensure government services are available and universally accessible in times of crisis and beyond. 
To respond effectively to the pandemic and support Londoners through the biggest crisis the city had faced since the Second World War, we had to rapidly improve our understanding of what was happening in the capital. 
This meant increasing the speed at which we collected and shared data and analysis, and collecting and synthesising information from new sources. This included: 
A new weekly survey, the London Community Resilience Survey, sent to frontline civil society organisations

Direct polling of Londoners on health, economic, and social impacts, and later, vaccination hesitancy

Direct engagement with 50,000+ Londoners through our online panel Talk London

London.gov.uk analytics that showed us what information was most valuable to Londoners

Purchase, analysis and sharing of available mobility and spend data to help us understand the impact on London's local economies
Analysis and data were fed back into the city's COVID response and published on the London Datastore. This work is now being built on to support London's recovery from the coronavirus pandemic and help make London stronger for the long term. 
When the pandemic came, people couldn't come in person to city hall. So we began focusing closely on creating better digital services. We are starting with a user-friendly and functional website that is built around data on visitors' needs and a unified design.  We are also continuing with a property-tax transformation that will allow residents to pay their bill online and, in a few years, connect available datasets so that residents won't have to submit their tax return.
Last year showed us that residents are ready for online payments, and that they expect transparency about processes that involve them. Our ultimate goal is for the city to be a partner, not a burden.
For us, the innovation impact from 2020 has more to do with culture than it does with a specific act or technology. It was about our city employees, residents, and businesses adapting through overwhelming odds and becoming better. Whether it was the economic recovery and revitalization initiative, not missing a single city council meeting and shifting to virtual meetings within a week, or collaborating with fire departments around the region to deploy vaccinations to the most vulnerable, time and time again the people who live in Carlsbad and work for the city innovated. 
Drawing upon our humanity during crisis—and punching through barriers because we believed we could be better together—has forged lasting relationships and systems that will accelerate innovation in our community for the foreseeable future.
We are transforming the city's participatory budgeting process, called PB Durham, to support local efforts to strengthen the community's social and economic fabric by offering relief assistance to communities in Durham. PB Durham will provide up to $50,000 in grant funding to established nonprofit and community organizations who are directly serving residents impacted by the COVID-19 pandemic and addressing issues contributing to racial, economic, and social inequities in Durham. The effort will boost capacity to deliver services that residents identified as the most important priorities during the pandemic, and will help ensure that residents are able to recover equitably.
In light of the pandemic, the City of Toronto Customer Experience and Innovation Team has been working on creative ways to increase transparency with Torontonians. For example, we redesigned a website for tenants, making it easier for users to navigate and learn how to avoid eviction. This revamp resulted in a 700 percent jump in engagement from September to January. 
We've also leveraged SMS two-way communication to engage residents who took a COVID-19 test to bolster contact-tracing efforts. SMS communication significantly saved staffing costs, leading the city to consider SMS as a tool we can expand to other areas of communication with Torontonians.