​
The road to recovery and equity in an already-challenged economy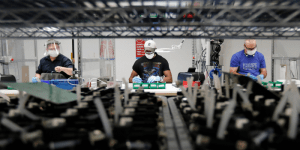 If you were to rewind the clock four months, to pre-COVID February when unemployment sat at just 3.5 percent, you'd find many city economies nevertheless facing big challenges: shrinking numbers of middle-income jobs, skills gaps in the workforce that left many jobs unfilled, the constant threat of automation wiping out ever more professions.
Today, those challenges are still here — and compounded many times over by the economic damage triggered by the pandemic. Even city leaders who were around during the Great Recession or dot-com bust before it are dumbfounded by the scale, impact, and uncertainty of the current economic crisis.
We have been advising 15 U.S. cities as part of the Bloomberg Philanthropies COVID-19 Local Response Initiative as they navigate the situation. They're a mix of medium and large cities from every region, some of which were humming economically before the pandemic, and others that were struggling. We've given all of them detailed economic and jobs forecasts, prepared by McKinsey & Company, Oxford Economics, and Burning Glass. And we're in regular discussion with their economic development leaders about how to leverage these insights so they can prioritize their limited resources and budgets for the recovery ahead.
Here are some key insights on the future of the economy that we've gathered in our work with these cities, as well as some reflections on what they mean for city leaders as they make choices about how to rebuild.
Economic outlook
The coronavirus pandemic is tipping the global economy into recession, with economic output worldwide expected to decline by almost 5 percent in 2020.
Rather than the much hoped-for 'V-shaped" quick recovery, the most likely outcome is what McKinsey calls a "muted recovery." Under this scenario, the U.S. economy would shrink in the second quarter of this year at an annualized rate of 35–40 percent, economic policy would fail to prevent a huge spike in unemployment and business closures, and the country would take more than two years to recover to pre-virus levels of economic output.
The hardest-hit industries would be accommodation and food services, retail, manufacturing, transportation. Sectors such as education, information, and healthcare would recover more rapidly. Low-income workers and workers from minority communities would be at the greatest risk of losing their jobs during the downturn.
While many of the jobs would return to a post-pandemic economy, employment recovery would lag behind GDP growth. The labor market would not reach pre-pandemic levels until 2024.
Implications for city leaders
Although the recession will impact each city differently, and each city's response will need to be tailored to its needs, there are some important common themes and strategies for city leaders to consider:
A greater focus on demand-side policies such as accelerating construction programs, and fast-tracking permitting to get building projects going.
Policies and programming to ensure that local demand is captured by local businesses and workers — such as giving preference to local businesses for city contracts, offering surety bonds to small businesses, and supporting consortium bidding to give local vendors a shot at larger public contracts.
Supporting unemployed and recently displaced workers to get back into the labor market — for example, through a service corps model like what Birmingham, Ala., is using, or drive-through jobs fairs like one held in Lincoln, Neb., allowing job-seekers to network in person while maintaining social distance.
Creating skills and career pathways for low-wage workers, so that they can prepare for good, stable employment during the recovery — such as employer-designed (and funded) training and education, and "stackable credentials" that enable workers to build up their skills and earning potential over time.
Prioritizing resources for workers in disinvested neighborhoods, and from communities that are vulnerable during the downturn — for example, tax relief for residents at risk of involuntary displacement, and a revolving-loan fund to support small businesses in low- income census tracts.
Focusing on employers who create medium-wage jobs for residents, particularly residents without a college degree. For example, cities could consider creating a new scoring matrix for companies to receive business incentives, one that protects medium-wage jobs that come with employer-sponsored healthcare benefits, and encourages the hiring of vulnerable residents.
Helping residents and local businesses adapt to a post-pandemic economy and to participate in its recovery — for example, sector plans for the local industries expected to recover most quickly, digital-skills training for employees, and support to build a more thriving, entrepreneurial ecosystem.
Critically, each element of a city's plan will build on and be connected to the other. For example, while one city agency is creating new job opportunities, another (or, ideally, the same agency) must also be preparing its residents to be able to access those jobs.
In times like these, it's worth remembering what happened in Milan after the "great plague", when farmers pivoted from growing grain to mulberry silk, leading to the city's rise as a hub for weaving and, later, fashion. Or what happened in New York after the September 11, 2001 terrorist attacks, when some said the city could never recover (it came back stronger than ever). Or what happened in London after the financial crisis of 2008, which forced a successful rethink on how to diversify the city's economy, based on entrepreneurship and digital technology.
These transitions are by no means inevitable, but with a response based on data, city-wide partnerships, and armed with emerging and best practices, cities can emerge from this crisis more equitable and resilient than they were before.