​
Replicating the success behind Providence Talks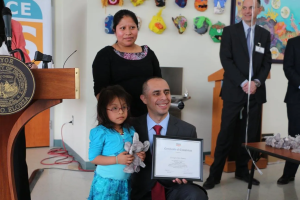 Providence, R.I., entered Bloomberg Philanthropies' first Mayors Challenge competition in 2013 and proposed the Providence Talks program to address early childhood education issues in the city. Research showed children living in low-income households hear 30 million fewer words than their more affluent peers, and that Providence had twice the percentage of children living in poverty as the national average.
Providence won the competition's grand prize and launched the project to address this "word gap," a breakthrough idea that is succeeding today. More than 1,300 children have participated in the program, and on average, the number of words is increasing by 52% — from a baseline of 9,500 words a day to 14,400 words. That's getting kids really close to the target for healthy brain development, which is 15,000 words a day.
On Feb. 27, Bloomberg Philanthropies hosted a convening for cities and funders to learn more about the idea and how it can be successfully replicated in their cities. Attendees discussed research and evaluation related to Providence Talks, and had an opportunity to talk about their replication goals and surface expected challenges and mitigation strategies.