​
A librarian doubles down on resident engagement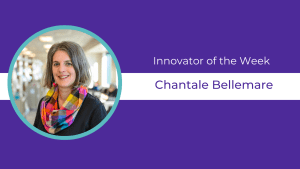 Title: City Librarian
City: Moncton, Canada
As a librarian, Chantale Bellemare is used to asking people what they need. She's also long seen residents as experts: She regularly asks volunteers with specialized knowledge to lead library workshops on learning a language or financial literacy.
"The library becomes a place of learning and knowledge," Bellemare says, "because we have so many ways to access information—and that includes accessing it from community members who have expertise. That's part of what we offer."
Bellemare's participation in the Bloomberg Philanthropies Innovation Training added even more dimensions to her resident-engagement approach. Through the program, she and a cross-departmental team of civil servants developed ideas for how Moncton, a city of 85,000 in the Canadian province of New Brunswick, can achieve net-zero greenhouse-gas emissions by 2050. From the initial research to prototyping potential solutions, residents were co-creators every step of the way.
One concept Bellemare has been working on is for the city to host a sustainability-themed festival to build public awareness. There might be exhibits on community gardening, for example, or chefs sharing tips on cooking without meat. To prototype this idea, she and her colleagues engaged patrons in the library lobby one busy morning, asking their thoughts on different types of programming for a festival and to vote on their favorite ideas. 
The experience was eye-opening, Bellemare says. One festival activity the team was sure residents would like—trying out a net-zero "calculator" to help residents factor their carbon footprint—proved unpopular. "They were more interested in learning about ways to change their behaviors," she says. 
As the Moncton team works on an implementation plan for the festival concept, Bellemare is now considering ways to incorporate the human-centered design methodology she's learned through the training to work at the library. "I would love to use it for a specific project at the library and involve my colleagues so they can see what we can do if we use this method," she says. "You need to invest time in it. But it will also save you time because you can be sure your solution will be more successful than if you crafted it alone."
Pro tip: "Trust the process of engaging residents. You'll always be tempted to jump to solutions. Don't go too fast."