​
Innovation should guard against complacency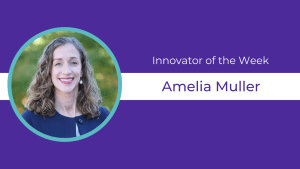 Title: Civic Design Principal
City: Birmingham, Ala.
Complacency is a common enemy of innovators in city halls. Even as the basic building blocks for data-driven, human-centered collaborative processes are being put in place, there is the challenge of taking that progress to the next level of delivering results for residents.
In Birmingham, Ala., for civic design principal Amelia Muller, that means playing the role of "Swiss Army knife"—taking on whatever role is necessary to broaden the city's focus on innovation from economic development to a whole host of issues as Mayor Randall Woodfin enters his second term in office.
Muller has served in the role since September 2020 but also worked with Birmingham in the summer of 2019 as a Bloomberg Harvard City Leadership Initiative fellow. "I'm an urban planner by training, a digital strategist by experience and I have a background in higher ed," Muller said. "That helps me look at ways to scale our innovation practices across city hall."
One example of how Birmingham is raising its sights in how it approaches innovation is the city's new pilot to offer a guaranteed income of $375 a month for a year to 110 single mothers. Muller said the project team established an advisory board to involve community stakeholders early on. They also used a process map to walk through the journey that participants would take.
Muller says the team also went through a branding exercise. "I led a branding brainstorm where I asked everybody to send in media imagery that they felt captured the female identifying experience powerfully," Muller says. For a name, they settled on "Embrace Mothers." "We wanted to signal kind of wrapping our arms around particular individuals and populations," Muller says.
Another project Muller points to as an effort to take innovation to the next level is Birmingham's entry in the Bloomberg Philanthropies Global Mayors Challenge, which earned the city's inclusion as one of 50 Champion cities to be named finalists in the competition. Muller hopes to see the creation of the Birmingham Food Corps, staffed by recent graduates of city schools, to scale the success of hyper-local urban farms and generate new creative, community-driven solutions for increased food access.
In reaching to achieve innovation 2.0, Muller says, "it starts with people, and it starts with acknowledging and holding space for different types of wisdom and learned experiences. It's easy to get stuck behind our desks, especially in this hyper virtual COVID world. One of the most powerful parts of the Mayors Challenge experience was literally getting out to farms and meeting people and having conversations on their turf."
Pro Tip: "The Woodfin administration's motto is 'putting people first'—be intentional about which voices you center and how early and often in a process."