​
How networks between cities can foster faster and better innovation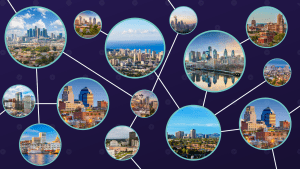 When Amy Asselbaye took charge of Honolulu's new Office of Economic Revitalization in July, she had no time to lose. COVID-19 cases in Hawaii were surging, small businesses were suffering, and she needed to make progress quickly on both fronts. 
Then she read a Bloomberg Cities article on a program aimed at helping businesses reopen safely in Durham, N.C. That program, called "Let's Get Back on the Bull," used tools from behavioral science—like a safety checklist and rewards—to encourage local businesses to comply with COVID protocols. Asselbaye liked the sound of Durham's carrots-not-sticks approach to engaging businesses on safety. It was very much what she hoped to do in Honolulu.
To learn more, Asselbaye scheduled a meeting with the city officials and Duke University researchers behind Durham's program. She not only got an overview of how their model worked, but also was given full and free use of tools Durham had already spent eight weeks building—including a website and a safety checklist. The Durham team even offered Honolulu the services of their web developer, pro bono. 
That meant that when Asselbaye decided to move forward with a program based on the Durham model, she had a huge head start. The Honolulu version has its own local flavor—the campaign is called "Let's Get Back on the Wave," for example. And Asselbaye added some new features, like a free pack of masks, gloves, sanitizer, and infrared thermometers for businesses that complete the checklist of safety precautions they're taking. Since the program launched last month, more than 2,100 businesses have signed up, well more than Asselbaye expected. "This is a foundational pillar of our strategy for COVID safety," she said, and the collaboration with Durham "made it so much quicker to execute."
[Read: Why Durham built behavioral 'nudges' into its reopening plans]
As Honolulu is finding, networking and learning from others can enable cities to innovate faster—which is critical during the COVID-19 crisis, when every day counts. That's exactly why Bloomberg Philanthropies just launched its new Bloomberg Cities Network website: to connect city leaders with critical resources and, especially, with other innovators around the world, so they can learn from each other and spread solutions to their most pressing local problems. As Ryan Pierce of Bloomberg Philanthropies puts it, "When cities everywhere are tackling the same tough challenges and standing up powerful new solutions, why reinvent the wheel?"
Durham's Ryan Smith agrees, and says spreading solutions among cities benefits leaders on both sides of the exchange. Smith heads the city's innovation team and is currently supporting Durham's economic recovery task force. He's excited to see how Honolulu took the scaffolding his city offered and built a new program with it. "As our idea is replicated, we get to see someone else improve upon it, and can learn lessons that we can then apply back here," he said. "An unprecedented crisis like this really calls on all of us to learn from one another and be supportive of one another and both share and receive." 
Masking up, together
Durham also has been on the receiving side of an idea exchange during the pandemic. In the early days, when supplies of personal protective equipment were running short, Durham borrowed a solution that had come from Los Angeles—by way of Seattle. 
The idea was to create a local online marketplace for nonmedical facemasks. It had multiple aims. One was to boost local manufacturers who were seizing the opportunity to get into making masks.  Another was to stabilize what had become a Wild West in the PPE market by bolstering local supplies of quality face coverings at affordable prices.
L.A.'s Ricardo Vazquez started seeing the need for something like this beginning in March. Vazquez works out of the Mayor's Office of Economic Development, where he focuses on supporting local manufacturers, including L.A.'s large textile industry. As garment makers began retooling to make facemasks, Vazquez connected with health experts at Kaiser Permanente to develop and distribute science-based design specifications for them to use. He then partnered with local businesses, nonprofits, and city agencies to buy masks from those manufacturers in bulk. 
The program was called "L.A. Protects." By Vazquez's back-of-the-envelope count, local manufacturers have churned out more than 8 million masks, far exceeding an initial goal of 5 million. It also generated a lot of inquiries from other cities, like Boston, New York, and Seattle.
[Get the latest innovation news from Bloomberg Cities! Subscribe to SPARK.]
The L.A. to Seattle connection came via the two cities' innovation teams, who are linked through participation in the Bloomberg Cities network. Vazquez and his colleagues got on the phone with their counterparts in Seattle, including Sarah Scherer, the city's manufacturing and maritime advisor, the i-team's Leah Tivoli, and Anthony Derrick, the mayor's digital advisor. Vazquez shared much with the Seattle group, including L.A.'s mask design specs, some website content, and lots of advice.
"Knowing that someone's done this already just makes it a million times easier," Tivoli said. "It takes a lot of the risk and uncertainty out. Because you have a sense of what's going to happen when you put this thing out into the world." 
Seattle's version of the mask marketplace—"Seattle Protects"—departed from L.A.'s in several ways. For one thing, Seattle doesn't have a big garment industry like L.A. does. So the focus in Seattle was less about helping textile manufacturers transition than it was about surfacing and supporting anyone making quality masks at a bulk price between $5 and $7, a list that included everything from a large sporting goods company to a small nonprofit supporting refugee artisans. Seattle also opened its marketplace to manufacturers outside the city limits but still within the Seattle metropolitan area.
Later, Durham's Ryan Smith reached out to Seattle, again through Bloomberg i-teams connections. The version Durham went on to create, called "Durham Has You Covered," took a lot of cues from Seattle, such as putting a special emphasis on masks made and sold by businesses owned by women and people of color.
"Even though we're all in different cities, it's felt like we're all working together as a team," Vazquez said. While the supply crisis that sparked the mask markets has passed, the importance of connecting and learning among cities continues, he said. "What I've noticed in this job is that anytime you bring a network of people together, you never know how you're going to have to rely on them in the future."
Neighborly nudges
City-to-city networking doesn't have to happen across oceans or continents. Often, the most robust sharing happens right in one's own backyard. 
That's true in Arizona's Maricopa County, where four neighboring cities—Phoenix, Mesa, Scottsdale, and Tempe—all earned What Works Cities Certification this year. That's a national standard indicating that these cities are among the very best when it comes to using data and evidence to deliver results for residents. No other metro area comes close to having so many certified cities.
What's their secret? Brent Stockwell, the assistant city manager in Scottsdale, says a big part of it is a spirit of sharing and cooperation that has taken root among Phoenix and its suburbs. While each municipality is unique, of course, they all developed at about the same time and share the same council-manager form of local government. That makes it relatively easy for ideas that work in one community to transfer to another.
[Read: Scottsdale shares its secret for data-driven success]
It helps that local leaders actively network with each other both formally through regional associations, as well as informally through ad-hoc groups devoted to thematic issues like open data or "smart city" technologies. Stockwell himself instigated one of these coalitions in 2011—the Valley Benchmark Cities Group. It's a consortium of the metro area's largest cities and towns, who share government performance data with each other in order to spot trends and identify best practices.
"We have a strong history of coming together and collaborating together when we have problems that impact multiple cities," Stockwell said, noting that the dynamic has a bit of friendly competition mixed in, too. "We keep our own individual authority but collaborate. It's easy for us, whenever an issue comes up, for us to adopt that model."
Municipal collaborations have been crossing the Valley of the Sun throughout the COVID crisis. In the early days of the pandemic, Scottsdale Water produced 100 liters of hand sanitizer for city facilities—and shared the recipe with neighboring cities that also were experiencing shortages. When Tempe leaders figured out how to break down COVID case data by ZIP code, they shared how to do it with their friends in Scottsdale. Mesa has shared its secrets for organizing hybrid virtual and in-person council meetings; Phoenix is sharing COVID wastewater data with Tempe; and several cities, including Phoenix, Mesa, and Scottsdale, are coordinating with other partners on creating regional sites for dispensing the first round of COVID-19 vaccines.
"Fighting this COVID pandemic has caused us to look at data more carefully," Stockwell said. "Having all our data coordinators working together and collaborating just puts more minds and greater minds to work solving these problems and working together to do that."