​
How `Form-a-Palooza' is helping Washington, D.C. simplify city government forms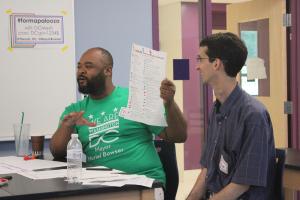 Food trucks are a booming business in Washington, D.C., as they are in many cities. But, as a group of D.C. residents recently learned first hand, that's no thanks to the 14-page application the city requires of anybody interested in operating one of these street-side services.
A mind-numbing maze of check-boxes, text styles, acronyms, and jargon, this application was one of five government forms that several dozen residents — with the guidance of city employees — set out to simplify at a recent Saturday workshop called "Form-a-Palooza."
The event was just the latest in a series of sessions meant to bring new thinking to one of the oldest vestiges of bureaucracy: the government form. The one-day flurry of brainstorming not only generated a haul of concrete ideas for how to simplify commonly used forms. It also put citizens in the center of that process, tapping into their insights as the people who ultimately are the ones filling these forms out.
Form-a-Palooza's founder, D.C.'s David Yokum, said rethinking forms is fertile ground for city hall innovators. A badly designed form can turn people away from accessing services or opportunities they're entitled to. Likewise, a well-designed form can invite people in.
"Forms are one of the most common touchpoints people have with government," said Yokum, who heads The Lab@DC, a team Mayor Muriel Bowser set up inside D.C. government to apply research and design thinking to local policymaking. "So forms really matter. They're one of the most important things to pay attention to because they're key to how people navigate the rest of the government experience."
Yokum's team structured the event into two interweaving parts.
Throughout the day, participants attended seminars to help inform and inspire their thinking, including one session led by University of Washington psychology professor Crystal Hall, who described the behavioral science underlying government forms and how language and framing can influence whether people fill out a form accurately — or even at all. Additionally, Gainesville, Fla., City Manager Anthony Lyons described how his city is using "citizen-centered design" to rethink everything from the city's website to its permitting offices. Yokum, meanwhile, delivered an entertaining roast of "legalese," offering tips for how to write forms so that they don't require a law degree to understand.
Between each of those sessions, participants ducked into workshops focused on one of the five forms that were the focus of the day — critiquing the form before offering ideas for how to improve it. In the food-truck workshop, for example, one group produced a paper prototype of an information packet operators could keep on hand to remind them of good hygiene practices and spell out clearly how to renew their license.
Form-a-Palooza is more than a one-day blast. Karissa Minnich, an operations analyst at The Lab who manages the program, said it's a six-month journey that starts well before the big public event, and continues long afterward. Starting back in March, The Lab@DC began taking nominations from both citizens and city employees about what forms need some work. Then, Minnich worked with the relevant agencies to make sure they were comfortable with reforming their forms.
"We pitched it as a partnership," she said. "We don't want to take their suggestions, walk away, and then five months later say, 'Here's your new form'. We need them as part of the process." Part of that buy-in, Minnich said, is having agency leaders participate in the workshop with citizens. She cited last year's redesign of the city's driver's license application as an example.
"Residents were like, 'Wow, the director of the DMV is here and willing to listen to my suggestions'?" she recalled. "It really resonated that we're not just paying lip service to the idea of collecting user input."
What happens with that input also matters a lot. After Form-a-Palooza, Minnich works with the agencies and lawyers to sort through citizen suggestions to see what is doable both administratively and legally. Then they begin a process of refining both the graphic design and substance of the forms and testing out new versions with users to get concrete feedback to inform the next iteration.
When the new forms are finalized, they don't just go quietly into use. The Lab@DC celebrates it with a City Hall "gallery opening," which last year was held in October. Form-a-Palooza participants were invited back to see the results of their contributions, with oversized before-and-after forms hung on the wall side-by-side for comparison. (You can check out an online version of last year's gallery here.)
"We found it was important to be intentional about communicating what happened after Form-a-Palooza," Minnich said. "We're asking people to go to a daylong event on a Saturday in the summer to give input. The least we can do is show them that we actually use that input for something. It's important that they see that."
[Read: Meet the new force shaking up city halls: designers]
Other cities have seen it, too. Impressed with D.C.'s success with Form-a-Palooza, several have begun copying the idea and adapting it to their own circumstances. Durham, N.C., held a similar gathering called "(Re)Form" in April, and Philadelphia held a form redesign event in May. Austin, Texas, is plotting its own version as part of a broader collaboration with the Austin Tech Alliance to digitize paper-driven city services.
Anchorage, Alaska, has taken the idea of redesigning forms and extended it to the realm of government letters and emails. The city has held a couple of "Letter-Palooza" events aimed at helping city agencies make their communications with citizens clearer and more understandable.
"The biggest impact is just letting people know you can change stuff," said Brendan Babb, who directs Anchorage's innovation team, an in-house City Hall consultancy funded by Bloomberg Philanthropies. "A lot of people in government think they can't make alterations to their letters because legal or regulatory requirements make them the way they are. But we've had legal review say, yeah, you can change almost everything."
Of course, not everything about government forms is easy to change. As the conversation in D.C. about food trucks progressed, it became clear that there were some understandable reasons why the old 14-page form was such a mess.
For example, the form touches multiple agencies, from the Fire Department, which doesn't want propane tanks on board food trucks to blow up, to the Tax Department, which wants to collect revenues. So even simple changes in the form can have wide ripple effects. Changes also can have implications for how the city stores data across different computing systems, and the staffing involved in managing all of that.
In other words, a bad government form is often more than a bad government form. It's the tip of a much larger bureaucratic iceberg lurking underneath the surface. But as Yokum sees it, that's exactly why forms can be a good place to start innovating.
"It's true that a form might be convoluted because the process it maps onto is convoluted," Yokum said. "The conversation about back-end process is a larger conversation. But Form-a-Palooza is a good pressure point to spark that larger conversation. That's happening with a lot of the forms from last year's event, where it led to deeper conversations not just about the paperwork but the back-end process and how we can simplify that."