​
Helping city solutions spread: How we think about 'replication' at Bloomberg Philanthropies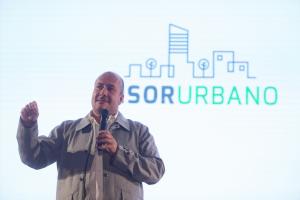 Earlier this month, Governor Enrique Alfaro of the Mexican State of Jalisco (pictured above) announced that a groundbreaking program that is reducing corruption in the city of Guadalajara will expand to at least a dozen more cities across the state. The endeavor, launched with support from Bloomberg Philanthropies, represents not only a critical step for good governance in Mexico but also an evolution in the foundation's thinking about how best to spread solutions to big urban challenges from one city to another.
The successful program—a winner in the 2016 Mayors Challenge—is called Visor Urbano. It's a website that handles construction and business permits—transactions where bribes and special favors can easily come into play when handled face-to-face. A study in Guadalajara found that moving these processes online reduced bribe requests by municipal agents by 74 percent. This impact is garnering interest from cities across Latin America looking to adopt the program. Alfaro, who launched the program as mayor of Guadalajara before he became governor of Jalisco, brought the city's implementation team along with him to his new Office of Innovation.
From here, they will focus on spreading the program throughout the state and beyond. The team will build on Governor Alfaro's $3.7 million commitment to standardize Jalisco's property data, which provides the critical digital infrastructure for Visor Urbano and platforms in other cities. Our support will bolster these efforts by giving the Visor Urbano team funding and coaching to help cities implement the solution and scale up its impact.
[Read: Study finds Guadalajara licensing system dramatically reduced corruption]
Visor Urbano is one of many successful ideas Bloomberg Philanthropies will help replicate through a new initiative focused on solutions spreading. All recipients of Bloomberg Philanthropies replication support will come from the pool of cities that have previously won our Mayors Challenge competitions in Latin America, Europe, and the U.S. The Mayors Challenge gives cities permission and funding to develop bold new ideas to tackle pressing challenges. At the heart of the competition—and a principle important to Mike Bloomberg—is the belief that when an idea is successful, it will spread. For our Mayors Challenge winners, it's time to scale their successful ideas. 
At the same time, we understand that you can't simply "copy and paste" good ideas from one city to another. There are barriers that prevent good ideas from spreading—especially in the public sector—and the local context matters a lot. As we designed the new program, we researched why some good ideas spread and others don't. Inspired in part by Everett Rogers' Diffusion of Innovations, a book first published in 1962 and still prescient today, we arrived at three key elements necessary for solutions to spread in the public sector:
The idea must be highly visible and easy to understand

The idea's impact must be clear, with data to illustrate that it works  

The idea must be easy to try out without a large investment of public funds 
We've designed a spectrum of supports to give successful ideas a boost in all three of these areas. On one end of the spectrum is a light-touch model aimed at increasing understanding and awareness of the ideas, providing cities with low-risk ways to test them, and technical assistance to help interested cities implement them.
To build demand for successful ideas, we will help Mayors Challenge teams shine a spotlight on their projects at conferences and virtual events, in trade publications, and on social media. To make ideas easy to understand, they will publish a playbook or "replication manual" outlining the program's core elements and how to communicate benefits to key stakeholders. To make ideas "trialable," the light-touch support model will develop affordable ways for cities to conduct low-risk prototypes of the idea to see if it would work.
[Get the latest innovation news from Bloomberg Cities! Subscribe to SPARK.]
On the other end of the spectrum are successful ideas, like Visor Urbano, that are complex to implement and require more intensive support for the ideas to spread. To implement Visor Urbano, cities must do a lot of work updating their maps with current property and deed information, as well as zoning data. Despite the talents of the project team in Jalisco, they simply don't have the capacity on their own to provide technical support to dozens of new cities. The Bloomberg Philanthropies grant will support the Jalisco team with funding and coaching as they build and execute a cost-effective replication model. That will allow the team to engage with and train staff in interested cities, find fixes as they hit roadblocks, and establish data systems needed to track progress.  
While we've learned that there is not a "one size fits all" approach to spreading solutions, there are supports we can provide cities to overcome common obstacles when sharing and adopting ideas. Through this program, we hope to not only amplify the impact of great Mayors Challenge ideas, but to build the public sector's understanding of how cities learn from each other—and how they can do more of it.