​
Global cities take aim at a broad range of post-COVID urban challenges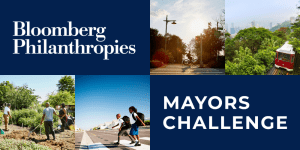 Bloomberg Philanthropies today announced that 631 cities—representing 99 countries—have entered the 2021 Global Mayors Challenge, an ideas competition to uncover and support the 50 most innovative solutions developed by cities in the wake of COVID-19. "The record-breaking response to this year's Global Mayors Challenge shows that cities are committed to emerging from this crisis even stronger than they were before. They've taken bold steps to save lives and protect their residents over the past year, and the ideas being put forward build on that incredible work," said Patricia E. Harris, CEO of Bloomberg Philanthropies. "We're looking forward to working with the winning cities, helping to supercharge their best and most innovative ideas, bring them to life, and spread them to other cities around the world."
The infographic below takes closer look at the 631 applicants, the issues they're looking to tackle, and what comes next in the 2021 Global Mayors Challenge.