​
Capturing innovation through the lens of the Global Mayors Challenge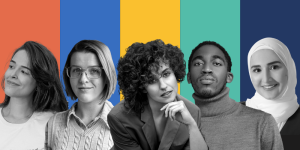 As the 50 Champion Cities in the 2021 Global Mayors Challenge continue work on their innovation projects, Bloomberg Philanthropies wanted to create a visual record of the process—and at the same time, try to lend a hand to aspiring photojournalists around the world who face increasing challenges pursuing their careers.
Fifty photojournalists—one in each of the Champion Cities—have been assigned to track the projects through the  prototyping and testing phase to create a rich photographic archive of this year's competition.
"To track the development of innovation projects in 50 Cities around the world, we turned to the people best placed to understand each City's context: local photojournalists," says Louise Ellaway of the Bloomberg Philanthropies Government Innovation Team. "With many of today's local press outlets stretched for resources, we recognize it's a tough environment for those looking to break into news. We're excited that the Mayors Challenge can help aspiring photojournalists build their portfolios, develop their contacts, and get a leg-up into the field."  
The 2021 Global Mayors Challenge is the farthest reaching, most ambitious to date. Six-hundred and thirty-one cities from around the world submitted applications earlier this year and, from those, a committee of global experts has selected the 50 most innovative urban solutions to emerge in the wake of COVID-19 to advance in the competition. Of these 50 cities, 15 will win $1 million each—to help them implement their breakthrough ideas and, ultimately, to spread their ideas to other cities around the world.
In the meantime, cities are hard at work with their coaches to flesh out and refine their ideas—and a local photographer has been there with them. Bloomberg Cities spoke with five of the photojournalists, who shared their experience and what the project has meant to them and their futures.
Amman, Jordan: Farah AlQawasmeh, 24, graduated last year with architecture degree but has always been interested in photography. Her work documenting Amman's Mayors Challenge proposal to create "reachability maps" to identify gaps in key services allows her to combine her two passions, while also presenting the Amman that she knows to the world.
The proposal grew out of difficulties Amman city officials had in delivering services during the pandemic and is aimed at improving response to future emergencies and to better prioritize infrastructure investments in local communities.
"This is an opportunity to show Amman to the world—not just the Amman we often show to the world but also the problems we face," she says. "I want to focus on people, their stories, and the problems they are facing."
Birmingham, Ala.: Robert Crawford, 22, is an aspiring photojournalist studying at the University of Alabama at Birmingham. "If I can turn photography into a career, I definitely will," he says. But like others working on the Mayors Challenge photo project, he's also passionate about the substance of his city's proposal.
Birmingham, where a third of the city lives in neighborhoods without access to quality, affordable fresh foods, has proposed creating the Birmingham Food Corps. The Food Corps would be staffed by recent graduates of city schools, to scale the success of their hyper-local urban farms and generate new creative, community-driven solutions for increased food access.
Crawford said he's particularly focused on his photos driving home that the people who often are most impacted by food deserts are people of color. "I want people to understand the seriousness of food deserts. I think it's a topic that too many people don't think exists and when they do, they don't take it seriously enough. I want people to be more conscious about the choices that they make and the foods and vegetables they put into their body."
Crawford also has been a practicing vegan for the past year. "I want to make sure this story is presented properly," he says.
Lansing, Mich.: Twenty-two-year-old Annie Barker, born and raised in Lansing and a senior at Michigan State University majoring in photojournalism, sees her assignment as a showcase for her hometown.
Fewer than a quarter of Lansing third graders are proficient in reading, and it is expected that the pandemic has further impacted student progress. For its Mayors Challenge proposal, the city is proposing a partnership with the Public Broadcasting System (PBS), local public media, universities, and other partners to create an online education platform, in-person opportunities, and other resources to reverse the learning loss in the pre-K through third-grade population.
Like many of the photographers working in the Mayors Challenge project, Barker has had to confront the challenge of photographing teachers and students wearing masks, making it more difficult to show feeling and emotion.
She sees her city's proposal as a way to take better advantage of its people power. "Lansing is a wonderful place—there's lots of people with tremendous potential but not always the resources to help them be the best they can be," she says. "When you take the time and put in more effort, people can really blossom."
Recife, Brazil: Currently seeking her master's degree in urban planning, Larissa Garrido, 27, views her Mayors Challenge assignment as a way of combining her interests in architecture, photography, writing and women's empowerment.
Last year, 57,557 women in Recife lost their jobs—and many could not look for new ones because they were burdened with the responsibility of caring for children, elderly family members, and their homes. The city's Mayors Challenge proposal seeks to link its existing microcredit program with women-focused services that will offer professional, empowerment, and financial autonomy training to 15,000 women by 2024.
"What I would like the photos to show is that these women, despite all the difficulties we have here as women in a country that's still in development, are taking control of their lives and they are trying as hard as they can," says Garrido. "And they need more opportunity. This program would be great for them."
She also hopes to convey a sense of the urban fabric of Recife, what she calls an "informality" framed by environmental beauty.
Vilnius, Lithuania: Ugnė Žilinskė, 29, began her post-university life as a viola player moonlighting as a photographer. But in short order, as her photographic skills matured, she flipped those priorities around and now is a photographer who plays music in her spare time.
As the daughter of a teacher, the Vilnius proposal has special significance for Žilinskė. The city proposes to increase school capacity and invest in digital skills by introducing hybrid, in-person and online learning schedules, introducing a database of online lessons, and opening up city buildings and cultural spaces as digital classrooms.
Žilinskė says she saw firsthand how the lack of online access for students has been a major issue in Vilnius during the pandemic and she hopes to show the excitement of students and teachers for the proposal through her photographs.
She says she hadn't been aware of the Mayors Challenge program before getting the assignment but now has become a major fan. "I love it," she says. "I think these projects are the future because everything they're doing sounds so innovative too. I wish I could be a child again and participate in this project, you know?"