​
Analysis: Mayors across the Americas double down on data
Applications to Bloomberg Philanthropies' City Data Alliance reveal emerging priorities—and growing ambition—among North, Central, and South American mayors.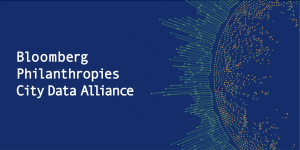 Last week, Bloomberg Philanthropies kicked off the second cohort of its City Data Alliance, which is identifying 100 data-savvy cities across the Americas to help take their practice to the next level. 
Graduates of the inaugural class have already demonstrated how expert use of data can help cities to solve a range of problems: improving trash collection in Montevideo, Uruguay, busting silos within city hall in Regina, Canada, and guiding the construction of tiny homes in San Antonio, Texas.       
Beyond stories of individual progress, a review and comparison of the in-depth applications to the program over the past two years—where mayors have shared details about their data use and aspirations—provide a unique perspective of what's happening in cities, and where they may be headed.  
Going deeper and wider on data 
Over the past two years, there have been distinct shifts in where mayors feel most confident in their expertise, and on the issues where they are leveraging data.
In 2022, applicants said they had confidence in their teams' ability to establish data governance practices and processes, and to draw on data to support decision making. This year's applicants expressed the same assuredness—and a new comfort—with data literacy and ethics, and to utilize data for more nuanced activities such as monitoring and evaluation. 
"It's possible that the experience of COVID-19 forced many mayors to use data to navigate the fast-moving public-health emergency, giving city leaders a new confidence to work with, and do more, with data," says Bloomberg Philanthropies' Florence Juillard, who leads the data and evidence portfolio on the Government Innovation team. 
The pandemic experience may also underpin a trend among applicant mayors to use data in making tough decisions on a wider range of issues. Last year, when asked to share instances where they used data in politically challenging times, around half cited the hard public health calls made during that time. 
In 2023, however, mayors were more likely to use data in their politically challenging decisions around urban planning—on zoning, for example, or for investing in disaster relief or public transit projects. They also are using data increasingly to make tough decisions about public safety, which correlates with an uptick in violent crime that has afflicted cities across the region in recent years. 
This suggests that mayors, like the rest of the world, are returning their attention to some of the big decisions put on hold during the pandemic, and perhaps, of a new appreciation of how data can be used to strengthen the case for divisive decisions.  
Addressing persistent data and talent gaps   
Applications also revealed where there were still gaps in what mayors need to lead with data. 
City leaders shared instances of when they had to make decisions lacking data. This year, in particular, they talked of forging ahead with local infrastructure and maintenance projects, despite a dearth of adequate data. 
This takeaway is pertinent especially in the U.S, where cities are eligible for federal funding made available through the Bipartisan Infrastructure Law. It also begs the question of whether cities are equipped with the data they need to identify local priorities and to make the case for critical resources. 
This year's applicant mayors are unequivocal about the data talent gap. When asked where their cities are focusing their data investments, they indicated that human capital is a key priority. "City leaders across the Americas are intent on hiring new staff with data skills and creating data-focused teams," Juillard says. "It is a perennial challenge for city halls given the fierce competition for technology talent." 
Moving from efficiency to problem solving 
Finally, mayors are becoming more ambitious about the ways they want to use data. 
Last year, when asked about the practice areas they were most interested in developing, more applicants listed performance management and the efficiency gains made possible by using data to monitor city progress, and being able to quickly identify issues.  
In 2023, however, most applicants indicated the desire to use data to identify and solve the wide range of problems that fall in a city leader's remit. From discrete local issues such as city hall operations or waste management to more complex challenges such as climate, homelessness, and public safety, this is a signal that mayors are increasingly aware of their potential to use data in more sophisticated ways.