​
Using data to drive more equitable outcomes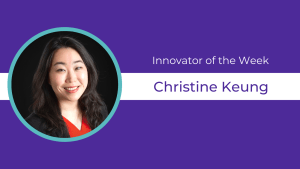 Name: Christine Keung
Title: Chief Data Officer
City: San José, Calif.
When Christine Keung got her start in Silicon Valley, she was working for companies like Dropbox. Now, after earning an MBA at Harvard University, she's back in the valley—but this time working for the mayor's office in San José, where she's building the city's capacity to use data to drive more equitable outcomes for residents. 
In one of her first projects, Keung is partnering with the parks and recreation department to improve a scholarship program that helps residents pay for classes and activities. Keung's analysis showed that scholarships are largely going to repeat customers—rather than new ones—and almost entirely to people who live within a mile of community centers.  
These insights prompted the department to rethink its marketing of the program—which is largely limited to billboards outside community centers—and to collect data on race and household income of scholarship recipients. "They were very focused on scholarship redemption, and hit that metric year after year with flying colors," Keung said. "But we also want to understand: Are we helping new people with that money?"
Before returning to San José, and in the early days of the pandemic, Keung worked a stint at the U.S. Small Business Administration. There, she used data to ensure that mom-and-pop businesses and communities of color were served by the federal Paycheck Protection Program. 
These are deeply personal pursuits for Keung. She grew up around the Chinese restaurant her parents ran in Los Angeles—and she says the pandemic has been hard on small business owners like her parents. "I come from a family where they're not fluent in English, and they struggle with a lot of the equity challenges I'm trying to tackle," Keung said. "These are issues that make a really big difference, and how we tackle it really does change trajectory, especially for the young people we serve."
Pro tip: "Start with the programs people care about. When your city can deliver on the services your residents need the most, that's how you build trust."