​
Tulsa aims to build residents' financial resilience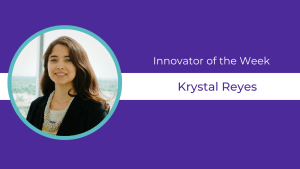 Title: Chief Resilience Officer 
City: Tulsa, Okla. 
Can the painful process of eviction also be used as an opportunity to teach renters financial resilience strategies and avoid future crises? Krystal Reyes and her colleagues in Tulsa are part of a pilot in five U.S. cities trying to answer that question. 
Tulsa is one of the cities collaborating with the Cities for Financial Empowerment Fund, through a grant from Bloomberg Philanthropies, to try to build financial counseling into its eviction and housing assistance programs. Other cities participating in the pilot, which began in March and will continue through February of next year, are: Pittsburgh; Sacramento; Lansing, Mich.; and Roanoke, Va. The Urban Institute will help evaluate the results. 
Reyes, the city's chief resilience officer, says Tulsa opened a Financial Empowerment Center at the end of 2020 that houses three counselors who are available to offer free financial counseling to any resident who needs it. The CFE pilot enables the city to integrate those services into existing emergency rental assistance programs so that renters in crisis are automatically made aware of financial counseling resources. 
Reyes, who came to Tulsa in 2019 after 19 years working in New York City government, says the aim of the pilot is to "figure out when is a good point to incentivize someone to participate in financial counseling so that we can get them stably housed and on a good financial track and then avoid having to access financial or emergency rental assistance again." 
One of the key questions the pilot hopes to answer is when in the rental assistance process would a renter be most open to financial counseling. Reyes says that while Tulsa is only in the early stages of the pilot, the team is now targeting the moment when a renter has received certification of rental assistance as the best entry point. 
"There's a little bit of a pressure release at that point, moving them away from a crisis moment," Reyes says. "There's an opportunity to tell them about this free resource that could help them in the future." She says that out of 150 renters in the rental assistance pipeline who have been made aware of the pilot, about 50 have met with a financial counselor in which they would receive a financial health assessment and a housing assessment. 
A related program Tulsa offers is called Bank On Tulsa and tries to help residents move away from high-risk financial institutions and into a safe, affordable bank account that has no overdraft fees. A partnership with Goodwill Industries of Tulsa, the program now has nine local banks participating. 
Pro tip: "Have stakeholders involved from the very beginning—don't just update them, but actually involve them in implementation planning and the overall future of the program."