​
Transforming Denver's digital customer experience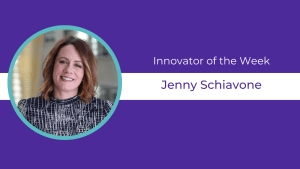 Title: Chief Digital Officer
City: Denver
Jenny Schiavone transitioned last year from a career in marketing and public relations to become Denver's first-ever chief digital officer. She's now in charge of frontline functions like 311 and the city's website and digital channels—great places, she says, to strengthen the relationship between residents and local government.
A recent example of this effort: Schiavone and her team knew there would be a flood of questions from residents around a Jan. 1 change to the city's waste-collection system, which resulted in households being charged by the size of their waste bins. So they ensured the 311 system wouldn't be overwhelmed by phone calls by helping to build an online platform to handle bin requests, billing, and rebates, along with clear-language explanations and how-to videos laying out the changes.
The results were impressive. For the month of January, solid waste inquiries made through digital channels and live chats increased by 340 percent and 425 percent respectively. Call volumes, meanwhile, increased by only 7 percent. It's a good sign that most residents are able to take care of what they need without having to make a phone call. 
"Having 311 in the same area as our digital marketing expertise helped us to align that strategy to help as many people as possible get their questions answered online," Schiavone says. "It's a good example of how we're evolving 311 with the times. We're moving away from thinking of it as a call center. We're thinking of it as a contact center with multiple ways to engage with customer service, whether that's picking up a phone and calling, submitting a case online, engaging in a live chat with a customer service agent, or using a chatbot."
"Denver continues to grow and grow," she continues. "We have more people to serve, and we have to look at other ways of serving them."
Pro tip: "Connect your marketing and communications teams with your technology teams. That's what started to open up entirely new opportunities for Denver to serve our residents in the ways they want to engage with us and prefer to get information."