​
Scaling up a new approach to engaging residents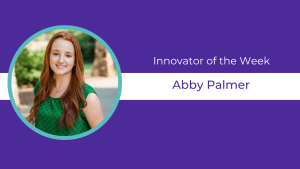 Title: Neighborhood Services Director
City: Jackson, Tenn.
When Abby Palmer went knocking on doors offering residents of Jackson help fixing up a sagging porch or planting some flowers, she was often met with skepticism. "We have people who can't afford to buy groceries," she recalls hearing residents say. "And you want to come in and plant flowers?"
Palmer listened closely to residents' needs and turned their feedback into action at City Hall. It didn't need to be a choice between food or flowers, she found. It could be both.
At the time, Palmer was working as an AmeriCorps VISTA member in Jackson's Love Your Block program, run in partnership with Cities of Service at the Bloomberg Center for Public Innovation. The program is a proven model for bottom-up neighborhood revitalization, offering residents and teams of volunteers small grants to fix up their homes and spruce up their neighborhoods. In its first year, Jackson's program worked with nine homeowners and completed 61 much-needed repairs, engaging 25 partner organizations and more than 150 volunteers in the effort. 
[Read: Love Your Block is rewriting the rules of resident engagement]
Just as important, Palmer says, it started a new kind of dialogue in neighborhoods where distrust of government runs deep. She listened closely to what residents said they needed, and found creative ways to deliver. "This is a seed program to start the conversation," she says. "It's meant to lead into something larger."
A big theme in the concerns Palmer heard about food was a lack of access to fresh fruits and vegetables. She applied for and received an AARP community challenge grant to bolster existing food programs with "community refrigerators" where residents can donate fresh food and anyone who's hungry can walk right up and take what they need.
Recently, Palmer was promoted to become Jackson's first Neighborhood Services Director. In that role, she plans to take what Love Your Block has achieved with resident engagement and scale it up across town.
"I always envisioned myself working with the community in a nonprofit sense, boots-on-the-ground type of work," Palmer says. "I never thought you could do that being in city government, but I've realized since being here that that's exactly what we want to be doing."
Pro tip: "Don't be afraid to challenge the idea that 'this is the way we've always done it'."