​
Putting innovation theory into action after two mass shootings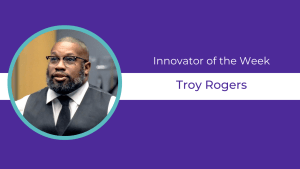 Title: Public Safety Coordinator 
City: Chattanooga, Tenn. 
When Chattanooga Public Safety Coordinator Troy Rogers was offered the chance last year to participate in an innovation training program offered through the Bloomberg Harvard City Leadership Initiative, he hoped it would give him some time and space away from his daily duties to think creatively about his goal of reducing gun violence in the city by 25 percent. 
But when Chattanooga experienced two mass shootings in the middle of the innovation training curriculum, Rogers and his team had no choice but to quickly pivot from analysis to action. 
Rogers put into place a speeded-up series of listening sessions with hundreds of parents, teachers, and youth in neighborhoods most impacted by gun violence and quickly found resounding support for two initial interventions: supplying at-risk youth with adult mentors and providing safe spaces for youth to gather. 
"What we found out qualitatively through our listening sessions was that nobody had a trusted adult to help them navigate tough times," Rogers says. "And navigating tough times a lot of times can teeter good kids into bad and teeter bad kids off the rails."  
That realization led to implementing a mentoring service that now has a roster of over 200 adult volunteers, as well as starting a summertime series of weekly "No Smoke Sundays" events to give youth in violence-prone neighborhoods a safe space to gather. Rogers says that summer series was so successful—more than 700 youth attended one session—that he put together a similar series of events during the recent holiday break. 
The entire strategy is underlined by Rogers' experience over 25 years of working to combat gun violence. "What I have seen over my years is that we don't look at crime from a socioeconomic lens—the lens of poverty, the lens of untreated mental illness, the lens of fatherlessness, and the lens of illiteracy," he says. 
The innovation training process, he says, gave him the rare chance to himself be in a safe space—one where he could share frustrations and the emotional toll of the life-and-death stakes his work entails.  
"I deal with violent crime. I deal with victims. I deal with witnesses. I deal with the face of death. So, to be able to go to class every Thursday and be able to have a safe space to just say, 'Hey, I'm struggling today. I lost one of my kids this weekend' and to have that support and fellowship was awesome," Rogers says. "I had a group of people that I could just be honest with and cry with. You know, I don't cry a lot, but I cried." 
Pro tip: "You have to understand the pulse of your community. What works in Chicago or New York probably isn't going to work in Chattanooga. You have to know what works in your city."