Public-health advice for mayors as cities return to work, school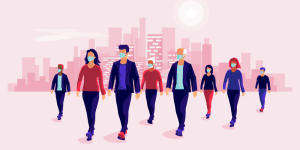 September 9, 2021
Early September marks a moment of transition in many cities, a time when summer ends and school and work routines resume once more.
For city officials, it's also a time to navigate a new normal necessitated by the ongoing COVID-19 pandemic. Cities are trying to return to something closer to business as usual, but the highly contagious Delta variant and flagging vaccination campaigns are clouding the picture mayors are looking at.
Dr. Joshua Sharfstein, Vice Dean for Public Health Practice and Community Engagement at the Bloomberg School of Public Health at Johns Hopkins University, has been a crucial resource for city leaders throughout the pandemic. Bloomberg Cities spoke with him recently and he outlined five areas he encourages city leaders to focus on in coming weeks.
1. Step up vaccination outreach: "Every day is a day to get people vaccinated," Sharfstein says. "And it's an investment in fewer cases in the future. So, this should be just full-court press still on vaccines. The vaccines are effective against the Delta variant. And the more people are vaccinated, the better." Sharfstein says mayors should look at their data on where the unvaccinated are and go to where the people are to reach them. Housing developments, street fairs, fire stations, supermarkets, laundromats, and libraries, for example, are all good places for pop-up vaccine clinics.
2. Vaccine mandates: Sharfstein urges mayors to consider vaccine requirements for employees (with appropriate exceptions for medical or religious reasons), especially those who work with the public. Mayors also can encourage major employers in their cities to do the same. He says the emergence of even stronger data on the effectiveness of vaccines in general, and against the Delta variant in particular, could help make the case to skeptical audiences.
3. Watch the schools: While many mayors don't have direct control over local schools, Sharfstein says they should be watching what's happening there. He encourages them to provide educators with the most up-to-date data, and to advocate for masking and other precautions, especially if cases are going up. "It's going to be a dynamic situation," Sharfstein says, "and mayors can keep their eyes on the big picture."
4. Be the thoughtful responder in your community: Cities still face a host of unknowns when it comes to COVID-19, and Sharfstein stresses the importance of city halls setting an example. That means watching data in their communities closely, following the emerging science, and thoughtfully adjusting local responses on matters such as indoor mask requirements as circumstances change. "We don't know what the virus has to offer," Sharfstein says. "And with this uncertainty comes an opportunity for leadership"
5. Continue strengthening and expanding public health capacity: Sharfstein says mayors need to continue keeping their eye on the testing, contact tracing, isolation and quarantine strategies of their public health departments and to advocate for those resources as needs arise in their communities. "Care about what the health department's providing, as if it were a matter of life and death. Because it is.."