​
Proving the value of robust data capabilities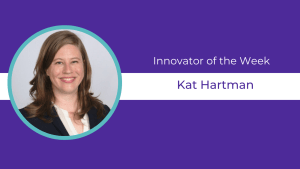 Title: Director, Data Strategy & Analytics
City: Detroit
Three-plus years ago, Kat Hartman was in the middle of launching a five-person Data Strategy & Analytics team within Detroit's Department of Innovation and Technology, with a goal of leading the city's data governance efforts. 
Then COVID happened.
Hartman's new team immediately pivoted into managing the back-end infrastructure of the city's caseload and testing data. In partnership with Health Department colleagues and others, they  built public-facing dashboards to inform residents and internal tools to inform decision makers. "It was a very interesting way to start the team off," she recalls.
It also proved the value of having strong data capabilities in place. As federal recovery dollars came Detroit's way through the American Rescue Plan Act, Hartman's team added staff to manage the data reporting associated with it. Even more staff came through a project to create a data warehouse to facilitate information sharing among city departments. Pretty quickly, a team of five grew to 20, elevating the role data plays across City Hall.
"Over the past couple of years, we've been able to communicate the value of the team," Hartman says. "I'm very honored that folks were willing to invest in my team that way."
Now that the COVID crisis has quieted, Hartman is focused again on bolstering data governance. Through her participation in the Bloomberg Philanthropies City Data Alliance, she's working on building out policies on how data are kept, shared, and handled in Detroit, and elevating those policies from the domain of the IT Department to have citywide impact.
"Data governance is the soup-to-nuts of where data gets entered into our systems and all the steps along the way to where it ends up in a portal, report, or dashboard," Hartman says. "This is where the rubber meets the road."
Pro tip: "Understand how long-term strategies undergird priorities coming from the mayor's office and residents themselves."