Paraguay's capital city takes the first steps toward counting — and including — its residents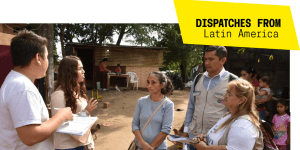 June 26, 2019
In the latest of our summer-long series checking in with the Latin American winners and finalists of the 2016 Mayors Challenge, Bloomberg Cities visits Asunción, Paraguay, and its work to collect and analyze community data in order to connect vulnerable residents to the social services they need.
Para la versión en español, haga click aquí.
Asunción, Paraguay, wants to be a data-driven city, the kind of place where local leaders make reasoned decisions on where to allocate resources based on solid information. There's a big problem, though — and it's one local authorities across the Global South will find familiar: They have practically no data on their residents.
The last census in Paraguay's capital city took place in 2002. And, even back then, that data was spotty. Today, leaders in this metropolitan area of more than 3 million don't know which of their children are attending school, which of their residents are living with disabilities, or where their poorest families call home.
"It's brutal," said Mayor Mario Ferreiro. "We don't know who isn't being included in social planning, who is undocumented, or who is able to access public healthcare."
Now Asunción, one of the finalists of the Bloomberg Philanthropies 2016 Mayors Challenge, is partnering with communities to collect and analyze data in order to better connect its most vulnerable populations with the social programs they need.
The effort started last year in the low-lying floodplains along the Paraguay River. That's where, every year, seasonal rains and flooding force many of the city's poorest residents out of cramped informal settlements. Thousands find refuge in city shelters, on streets, and in public squares.
With the help of experts and volunteers from the Paraguayan Red Cross and support from the World Bank, city staff fanned throughout Asunción to find and talk with displaced residents. In total, they surveyed more than 10,000 people and learned, for the first time, how many children, pregnant women, and people with disabilities were living in shelters. The data, which they logged onto their smartphone using the open-source tool Open Data Kit, was the first the city had collected on its poorest residents in years.
"We must have information and data to be able to change reality," said Cristian Decormis, an economist and consultant with UN-Habitat who works on building Asunción's resilience to flooding. It's a global challenge: River flooding poses a threat to more than 379 million people worldwide. "Data collection is fundamental," Decormis said, "because it provides clarity in your objectives, allows you to establish indicators, and then measure whether you are successful or not."
The survey found three parts of the city where residents displaced by flooding are clustered. Armed with this information, local authorities are now regularly sending trained community agents to conduct more interviews and gather even more information. Many of the agents are, themselves, from the neighborhoods of focus and, therefore, know the area and how to reach the people who live there. Their goal is to identify residents who quality for cash-assistance programs aimed at four groups — children, the disabled, senior citizens, and indigenous people — and connect at least 300 new people to services by December.
Paula Benítez is just the kind of person they're looking for. She spent years outside the social-services system, supporting three children on the $10 a day she earned cleaning windshields on passing cars. It wasn't until the municipality recently found her that she started to receive social benefits.
Benítez has since taken training courses and now works as a cook in a downtown bar. But before she could do that, she did something many of us take for granted: Go to the dentist. For years, she said, she was embarrassed by her smile. Her new dental prosthesis boosted her self-esteem, which helped her secure a job.
"It was a tremendous change," she said. "I used to be mistreated on the street. There are many people on the streets who are there because they are the breadwinners for their families. Many people need help." Benítez said her brother and father still clean windshields, but her sister, who has a severe disability, is now receiving benefits.
A separate but related project in Asunción involves engaging residents more deeply in setting city priorities. City officials hold meetings with community leaders in each neighborhood, typically with more than 100 people participating in each meeting. Their goal is to know who residents are, understand how they live, and then provide a platform for them to speak up about their needs.
That may sound like a simple step for a city. But in Asunción, it represents a major leap forward in incorporating residents into decision-making, encouraging people's participation, increasing the public's sense of ownership over projects, and, in time, achieving better results. Many residents say it's the first time they feel local authorities are listening to them.
"This experience is the first step to change the organizational culture so that information is at the service of people," explained Mirka Hraste, the Program Director at the Paraguayan Red Cross.
Taken together, Mayor Ferreiro said, Asunción's initiatives aspire to begin tackling high levels of inequality that exist in the city. Despite the economic boom that Paraguay has experienced in recent years, social spending is low and the problems of exclusion, inequality, and poverty are widespread and far from being solved. With these programs, the city hopes to identify and listen to the most vulnerable and help them meet their basic needs.
"Almost everyone speaks for the poor," Ferreiro said. "It's time they were able to speak for themselves."
Juan Paullier is an Uruguayan freelance journalist. He worked for the BBC for almost a decade as a correspondent in Mexico, Central America, and Venezuela and also at the London and Miami offices.
Read more stories in this series: