More cities are mandating masks as COVID-19 cases continue to spike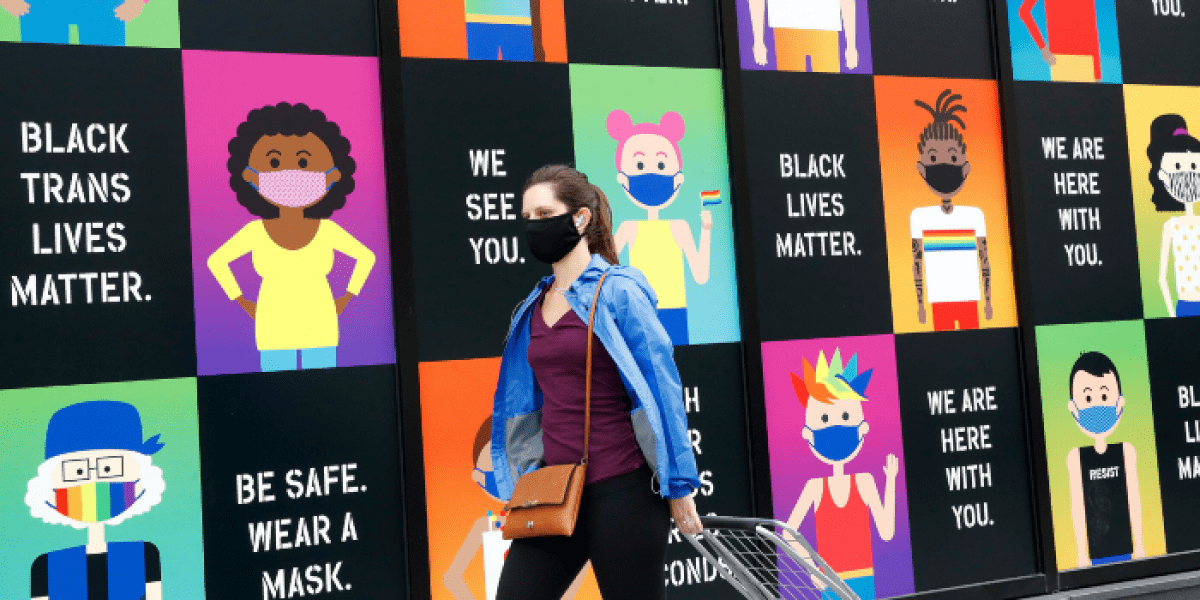 June 23, 2020
The push for mandatory mask wearing in public may be nearing a tipping point as COVID-19 infection rates soar in Arizona, Florida, Texas, and a number of other states.
Mayors are in many cases leading the charge, rebuffing critics and mixed messages from state and federal leaders to enact rules they say are needed to save lives as economies reopen.
Cities across Arizona acted swiftly last week to require all people in public spaces to wear face coverings when physical distancing is not possible. The moves came after Governor Doug Ducey stopped blocking local governments from enacting their own requirements.
In Florida, most major cities except for Jacksonville are now requiring people to wear masks, including Tampa and St. Petersburg, whose rules took effect Friday. Governor Ron DeSantis has recommended that Floridians wear facial coverings but ruled out a statewide mandate.
And in Texas, a number of local governments enacted orders in recent days mandating that businesses require customers and employees to wear masks. Back in April, Governor Greg Abbott issued an executive order that was widely seen as superseding local authority to set mask-wearing rules. But when Bexar County, which includes San Antonio, enacted a mask mandate last week, Abbott allowed it to move forward, and now many cities and counties across the state are following suit.
A growing body of research indicates that wearing face masks helps reduce airborne transmission of the new coronavirus, and may be even more critical than was previously understood. The federal Centers for Disease Control and Prevention recommends wearing cloth face coverings in public settings where other social distancing measures are difficult to maintain — in addition to maintaining six feet of distance from others and regularly washing hands.
"Public health experts are telling us that one of the most effective ways we can slow the spread and protect public health is by wearing a mask," said Regina Romero, the mayor of Tucson, Ariz., after signing a proclamation requiring face coverings. "I am asking all Tucsonans to do their part and please wear a mask — not just for your own health, but for the health of your family, friends, and neighbors."
Mask mandates have become a volatile political topic, however. President Trump refrains from wearing one, and some of his followers say mask requirements impinge on their liberty. Incidents like one in Orlando over the weekend, when a man without a mask shoved his way through the front door of a Walmart, are becoming a more familiar sight.
Anti-mask forces have made their voices heard at the local level, too. In California, where COVID-19 cases are rising fast, the Stockton city council overwhelmingly voted down a mask mandate proposed by Mayor Michael Tubbs, and Orange County rescinded a mask order after intense criticism of it. Those moves were superseded by Governor Gavin Newsom's move last week to make mask use required statewide. The Orange County Sheriff said he would not enforce the governor's order; the mayor of Nevada City, Calif., told residents to ignore it.
California is one of 15 states where mask wearing has been required through state-level action. Elsewhere, it's a patchwork of state and local actions that can vary a lot from one city or county to the next. And the ground is changing quickly.
In South Carolina, the cities of Columbia and Greenville are set to consider mask-wearing ordinances this week. In North Carolina, the cities of Boone, Kingston, and Raleigh have just begun requiring masks and the governor is weighing a statewide order.
In Alabama, Montgomery Mayor Steven Reed last week issued an executive order mandating mask wearing after the city council deadlocked in a 4–4 vote on the matter; a councilman who'd voted against later said he regretted his vote after reflecting on the memory of his 19-year old daughter who died of cancer last year. "If I could have had my daughter back one more day," he said, "you better believe I would have voted to wear a mask."