​
Mask usage is up, and cities are looking to keep it that way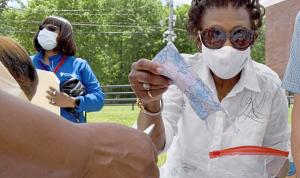 It's been a month since President Trump first wore a face mask in public and governors of Arkansas, Louisiana, Texas, and other states moved to mandate mask use for their residents. Mayors, who have been leading on promoting mask use all along, say the new tone from the top is helping.
"Once they got on board, we saw an increase in people wearing masks," said Montgomery, Ala., Mayor Steven Reed, who issued a local mask mandate by executive order back in June, a month before Alabama's governor followed suit with a statewide order. "It dialed down some of the confrontation around wearing masks and helped people understand that it's not political but a public health issue."
With COVID-19 cases in Montgomery now trending in a better direction than earlier this summer, a success Reed credits to more mask wearing, the mayor's only regret is that he didn't issue his local order sooner. "We're better now," he said in an interview with Bloomberg Cities. "I think people realize that we had to make some tough calls, and we had to do that even when most of my city council and community didn't understand why we were pressing the issue. That decision I made has come to be appreciated overall."
The changes Reed is seeing in Montgomery are echoed by recent polling on mask use. According to a tracking survey by the ETC Institute, a Kansas-based firm that many local governments use to conduct community surveys, four out of five Americans think people should be required to wear masks in public places, including 61 percent of Republicans. Yesterday, the politics of mask wearing shifted again when Georgia Governor Brian Kemp dropped a lawsuit challenging the city of Atlanta's mask mandate and coronavirus restrictions.
[Get the City Hall COVID-19 Update. Subscribe here.]
The shift is good news, public-health experts say. Research is growing increasingly clear that properly wearing masks in public helps reduce the spread of the coronavirus that causes COVID-19. A recent study in Health Affairs estimated that mask mandates implemented in 15 states plus Washington, D.C. averted as many as 450,000 COVID-19 cases between March 31 and May 22.
Even still, nudging resistant residents to comply with mask mandates remains a big headache for local governments across the country.
Many cities are sticking with the carrot approach. Baltimore, Md., Des Moines, Iowa, and Irvine, Calif., are among the cities that are handing out free masks to residents this week. Austin, Texas, Columbia, S.C., and Philadelphia, have launched advertising and social media campaigns aimed at promoting mask use. Tampa, Fla., has held a competition on social media asking residents to submit photos of their most fashionable face coverings. And Germantown, Tenn., has put masks on the iconic horse statues that are sprinkled across town.
Others are stepping up fines and enforcement. Houston Mayor Sylvester Turner last week ordered police to begin issuing citations and $250 fines to those who continually ignore warnings to follow a mask mandate. Hermosa Beach, Calif., has begun sending health ordinance enforcement officers wearing yellow vests into its downtown and parks, to ask people to wear masks and fine those who refuse. And the new interim police chief in Nashville, Tenn., has said that enforcing the city's mask mandate will be his top priority, calling it "the only way to save lives."
One way cities could take these efforts further is to collect and track data on the percentage of residents actually wearing face masks in public. That's one measure suggested in the COVID-19 Management Metrics for Cities, a guide for local leaders produced by Bloomberg Philanthropies and the Johns Hopkins Bloomberg School of Public Health. As Dr. Joshua Sharfstein of Johns Hopkins Bloomberg School of Public Health puts it: "By assessing mask use, cities can be forewarned about risks of a new outbreak and take steps to remind and encourage citizens to protect themselves."
Sharfstein recommends that cities take counts of actual mask use at public locations. Data based on direct observation is more accurate than polling, which relies on what people say they do rather than what they actually do. Generally speaking, this data remains scarce. According to Resolve to Save Lives, the group headed by Former CDC Director Tom Frieden, not a single state is reporting data on directly observed facemask use.
[Read: In push to normalize facemask wearing, mayors lead by example]
Some efforts are underway, though. The New York City transit agency counts facemask use on subways (90 percent) and buses (96 percent) and has looked at a tool used in Paris that uses CCTV cameras and artificial intelligence to do automated facemask counts. A New Jersey newspaper sent 16 reporters out across the state to observe mask use in different settings and found generally good compliance in retail and other indoor settings but not so good near beaches and other recreational areas.
And in Colorado, the Tri-County Health Department, encompassing three counties near Denver, has been doing weekly surveys of observed mask usage since April. Volunteers do the counts, spending about 30 minutes at a time outside grocery stores, restaurants, and other businesses, quietly counting how many people are and are not wearing masks. The data are reported publicly on the department's COVID-19 data dashboard.
Brian Hlavacek, Tri-County's environmental health director, said in an email that local elected officials have "taken a great interest in the data," and that the surveys were useful "to inform our educational strategies when considering a local mask mandate." The data show a clear upward trend in mask wearing in all three counties after Colorado Governor Jared Polis issued a statewide order July 16, a finding that Hlavacek believes factored into the governor's decision to extend the mandate. The data, Hlavacek said, "has persuaded some who were skeptical of masks of their COVID-reducing, economy-sparing benefit."