This Lithuanian innovator believes in having tech powered by people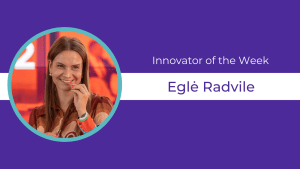 November 24, 2021
 Name: Egle Radvile
Title: Chief Innovation Officer
City: Vilnius, Lithuania
Egle Radvile wears many hats in Vilnius, the capital city of Lithuania. She's the municipality's lead on innovation, on technology, on data, and on digitalization. She also advises the national government on innovation projects and heads up a national association of public- and private-sector IT executives. This enables her to make lots of cross-sector connections to keep city projects moving forward. "In our city, we are never alone," Radvile says. "If you are alone, you cannot do anything. You are a leader in the forest."
One of Radvile's most recent projects was part of the Bloomberg Philanthropies Digital Innovation Initiative. It involves the social care services Vilnius offers to an aging population. Previously, people who were looking for home care or food support had a hard time navigating what options were available and how to access them. Radvile led a team that consisted of both technologists and social care workers to re-think the front-end of these services. 
The team interviewed elderly and disabled clients of social care services, as well as their adult children, who often are the ones trying to figure out the signup process. They heard the same thing again and again: The city's website was downright confusing. "The biggest problem was information," Radvile says. "More or less everything was on the website, but it was impossible to find what you need."
The team took that feedback and rebuilt the city's social-care website, using an iterative approach. Users tested each new design and the information presented to make sure it was clear. As new improvements rolled out, a jump in applications for care rolled in — a good sign that more people were actually finding what they were looking for.  
In the scheme of digital transformation projects, Radvile says, a website redesign is pretty straightforward. But it shows that relatively simple changes in how local government works can have a big impact for residents. The critical thing is to not stop, but to keep refining and improving services based on continuous feedback from residents. That's what Vinius plans to do with the social-care site. "It's not just, 'we did it, bravo!' and we're finished," Radvile says. "The results from this project we will keep alive and continue moving forward."
Pro tip: "Technology is always powered by people."