Leveraging procurement to increase economic opportunity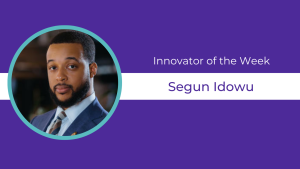 July 14, 2022
Name: Segun Idowu
Title: Chief of Economic Opportunity & Inclusion
City: Boston
When native Bostonian Segun Idowu was in conversations late last year with newly elected Mayor Michelle Wu about joining her administration, the title of his new position was of prime importance to him.
The job had previously been called Chief of Economic Development—but Idowu felt that raised negative connotations of gentrification and displacement for too many Boston residents. Instead, he and Wu, who agreed with him, decided to call his position Chief of Economic Opportunity and Inclusion. "For me and the mayor, it was important that before people meet me or anyone else on the team, that they understand the work that we're doing and who we're doing it for," Idowu says.
One area of particular focus for Idowu—who earlier in his career was a leader in successful efforts to move the city toward adopting a mandate for police body-worn cameras—has been procurement reform and using that process to drive increasing diversity within the city's contractors.
Idowu had seen the power of leveraging procurement to increase economic opportunity within communities of color in his previous role as president and CEO of the Black Economic Council of Massachusetts (BECMA). He also took part in a weeklong session on procurement reform earlier this year hosted by the Bloomberg Harvard City Leadership Initiative.
"Supporting communities of color is not charity. It's actually an investment in the future economic health of the entire community," Idowu says. "We know that many major corporations that exist today started off as small firms that once had a government contract. Government contracts are stable. They build your credibility, and they give you experience."
A 2020 disparity study found that less than 1 percent of the city of Boston's contracts were going to Black- or Hispanic-owned vendors. Under legal pressure from a coalition of groups that included BECMA, former Boston Mayor Marty Walsh, now the U.S. Labor secretary, signed an executive order to set a goal of awarding 25 percent of city contracts to minority- and women-owned contractors.
To address that, Odowu says the city has adopted a sheltered market program that allows up to six contracts to be reserved exclusively for minority- and women-owned businesses.
Another priority which Odowu says came directly from discussions during the Bloomberg Harvard session in May, is to centralize procurement policies. He says the city has roughly 40 or so departments, all of which have their own procurement standards and processes. The Wu administration is considering creating a separate department for contract services, similar to one that exists in New York City, so that there is one process with the same rules that everyone abides by and uses.
The Wu administration also has begun requiring departments to submit an equitable procurement plan along with their annual budgets, showing how they are checking the city's supplier diversity list to see if there are diverse firms that might be a good fit.
Pro tip: "Everything that's underlining and undergirding what we're doing is equity."