​
It's time for civic innovators to document their COVID work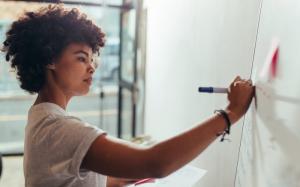 For local government leaders around the world, the first half of 2020 was both a time of devastating upheaval and one of rapid innovation. Faced with unprecedented health, economic, and social challenges brought on by the COVID-19 pandemic, cities have put together testing and contact tracing programs, built food-delivery services, assembled housing assistance programs, used streets for outdoor dining and socially distanced recreation, and created thousands more creative responses to the crisis, pretty much on the fly.
Now it's time for civic innovators to catch their breath and take stock of all they've achieved — and how it's moved their cities forward. That's what Theo Blackwell, chief digital officer in London has been doing: pulling together stories of public-service innovation from across Greater London's public agencies and local boroughs, in order to document all that's been going on.
Doing this is important for several reasons, says Blackwell, who leads City Hall's digital transformation and data initiatives. One reason is so that local leaders can learn from the many ways they've put data, resident engagement, human-centered design and other innovation tools to work — and build muscle memory to do more of it. Another reason is to underscore for elected officials and senior leadership the importance of using these tools to drive better outcomes for residents.
"We need to get the point across that under-resourced delivery teams did extraordinary things," Blackwell says. "Arguably, we would not have delivered meals to vulnerable people efficiently and effectively during the first phases of lockdown if these people hadn't stood up and created something new in a matter of days."
To explore this topic more, we caught up with Blackwell and Eddie Copeland, who runs the London Office of Technology and Innovation, which works to scale-up digital transformation efforts across London's 32 local boroughs. They agreed that the point of looking back on this remarkable period is to set the stage for the future: As the crisis ripples on in some places and rages on in others, a continued push for innovation will be critical as local leaders turn from emergency response to recovery.
What are some of the local-level innovations that happened in London during the early days of the pandemic?
Theo Blackwell: The first-up emergency response was to shift the public-service workforce 95 percent remote. That was a staggering amount of effort and a speeding up of digital transformation that was already underway — in a sense, to keep the lights on. But then there were many cases where teams exercised their data or design capabilities to help spin up a new service.
With data, for example, we were able to map where deaths were occurring in the city and overlay it with other data, such as people in insecure employment or minority and ethnic groups, and that gave the mayor the case to say to the government that certain communities were being more impacted and needed more help.
There were many other examples. Online triaging for emergency services, so that if an ambulance arrived they could talk to a doctor and do things online. Crowdfunding for businesses so they could get cash flow before the government check arrived. We were piloting responsive buses that don't follow set routes but go where the need is, and repurposed them to to assist with food deliveries, to take the strain off volunteers. Most of these services still exist, and they were spun up in a matter of days by bringing the right teams together.
Eddie Copeland: We saw some really extraordinary stuff happen. The Borough of Hammersmith & Fulham used essentially an AI chatbot to make thousands of calls over one weekend to vulnerable individuals to ask questions like "Do you need help? And if so, what?" that could then be followed up by a human.
The boroughs of Camden and Hackney designed a platform that helps the local authority get one view of what the needs are for vulnerable individuals, instead of that information being in tons of different databases. That's enabled them to have much more structured conversations with their local volunteer organizations.
Also things like moving democratic functions online, which in the U.K., has been largely impervious to digital innovation. For the first time, committee meetings were taking place online, with live questions and answers. It feels minor in the grand scheme of things, but it's quite a radical shift.
How have you gone about documenting this stuff?
Blackwell: We did an innovation crowdsource as the first wave of the crisis slightly eased off and we began thinking about recovery. It was a really simple exercise. I asked the chief innovation and technology officers of London's boroughs and the public agencies to name two or three services they launched beyond simply keeping the lights on with remote work. I gave them two weeks and a template: What's the name of your program? What problem did you want to solve? And describe your service in 350 words. Knowing that people didn't have much time, it needed to be as simple as possible for people to tell their story.
I also made clear that this wasn't for public consumption. It's for city leaders to collectively know what happened. That cut down the friction. The point was just to get a flavor in front of city leaders as soon as possible. I'll be presenting this to the internal city recovery group.
And why is that so important — to get these examples in front of city leaders?
Blackwell: First, when we come up with our plans for recovery, data and innovation have a role to play. And so recognizing that people did extraordinary things quickly with limited resources — and got real results for vulnerable people in particular — exemplifies the power of the design-led approach to policy makers who otherwise might not be that close to it. So it allows us to build the case for greater investment in design-led delivery for the future, and to say that the city needs to actually think about how it builds its capability here because we could do far more with it.
Second, it was also important to recognize the hard work of all those people behind the scenes. They might normally be seen as just keeping the lights on, but actually, they were vital to the response. And so for our movement of people who are changing things through innovation in our city, it's also recognition, and a thank you.
[Read: 7 ways to build a culture of innovation in City Hall]
Copeland: We have to keep talking about this period of innovation because the natural tendency of a lot of organizations is to revert back to how things were. And some of what happened in the crisis response I see as the seeds of much wider change — if we follow through on them.
For example, the fact that for the first time ever, U.K. local government is taking place online — that could actually be the start of a shift to much more substantial digital democracy initiative of the likes that you see in places like Barcelona or Reykjavik or Helsinki or Paris where there's really thoughtful digital approaches to engaging the public. I know a lot of London boroughs are interested in that, and it's a direct consequence of what they have seen from the engagement in their online committee meetings. That's one promising thing that we've got to keep driving forward.
What's the value of this to the people working in the trenches?
Blackwell: Some of the innovators didn't know about other peoples' work. During the early days, we were all talking, but not necessarily recording — we were dealing with the crisis. And now the matter is turned to how can we learn from the crisis. Just from this short exercise of asking people to tell us what you've been doing, it's making connections: Oh, that person's doing a community hub. We're doing a community hub. That begins a conversation.
Copeland: LOTI is all about sharing and reusing, and stopping needless replication of work. The more that boroughs can learn from each other, the better — because it just accelerates their decision making.
Inevitably, the kind of approaches that will be necessary over the next few months and years are going to have to be more experimental, and it would be slightly mad for any one local authority alone to take on the full risk of that experiment. And so by sharing what we're doing — by working collaboratively — local authorities can try slightly different approaches to a similar type of problem. That way, you're accelerating your learning, you're reducing the risk, and you're reducing the cost.
Is there a risk that any of this could be seen as boasting in a time of crisis?
Blackwell: It isn't promotion, it's what happened. To not talk about it would feel disrespectful to the ingenuity of those teams. I get it that if you're in a city authority and saying this is the good stuff we did in the middle of an ongoing crisis, you may not endear yourself to colleagues. In my role, I've got the air space to make that happen. My job is to promote this new way of thinking.
Copeland: When you start talking about innovation or digital or data, a lot of eyes glaze over. And I think our job is to firmly articulate to council leaders: You care about your citizens' issues. You're hearing their complaints. You're hearing their stories. You're hearing their needs. The kind of approaches that we use in the digital, the data, the innovation space are going to be a fundamental part of you being able to meet those needs and to do your job well. We need to talk in a language they understand.
(Shutterstock photo)