​
How Philadelphia is cracking the code for measuring mask compliance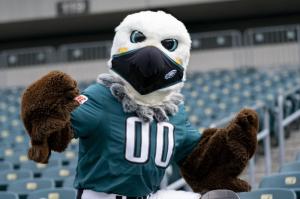 For all of this year's discussion around facemask mandates, the health benefits of mask wearing, and occasional protests against it, there's one thing many cities are still lacking: actual data on what portion of their residents are and are not wearing masks.
An exception is Philadelphia, where not just one but two studies are ongoing to assess compliance with the city's mask mandate.
In one of those studies, which is conducted by the city's Health Department, epidemiologists regularly watch security camera feeds from subway stations, outside retail outlets, and other locations to count the number of people wearing — and not wearing — masks.
The other study, which is federally funded and run by a team of researchers led by the local nonprofit Studio Ludo, is focused on mask wearing in outdoor settings like parks, playgrounds, and commercial streets, and is based on the direct observations of researchers visiting 30 sites across the city.
The data paint a mixed picture of mask wearing in the city. The Health Department's numbers show an encouraging jump in compliance this summer following the city's #MaskUpPHL media and advertising campaign. During the last week of August, 96 percent of people exiting stores were observed wearing masks. Those figures have gradually slid back into the 70s through September, however.
The other study shows much lower rates of masking in outdoor public places. Of more than 4,600 individuals observed across Philadelphia in the final three weeks of August, only 43 percent were properly wearing a mask over their nose and mouth. That study is collecting more data for September and October to see how trends change over time.
The Philadelphia studies add fresh context to what has become a politically charged topic nationally. Notwithstanding all the viral videos of anti-mask protests, polls generally show bipartisan support for mask mandates, with overwhelming majorities reporting that they now regularly wear masks or face coverings when they go out.
But people don't always do as they say. That's why observational studies like these in Philadelphia are so important. "If you ask people how often they work out, they'll say three times a week when it may really be negative one," said Meghan Talarowski, founder of Studio Ludo. "Direct observation is a great tool for understanding human behavior trends, as opposed to what people think you want to hear."
Research increasingly points to the importance of wearing face masks in interrupting the spread of the coronavirus that causes COVID-19, with the greatest public health benefits occurring when mask compliance reaches at least 80 percent. That's why collecting and tracking data on mask compliance is critical. It's a key measure suggested in the COVID-19 Management Metrics for Cities, a guide for local leaders produced by Bloomberg Philanthropies and the Johns Hopkins Bloomberg School of Public Health. It's also one of 15 "essential indicators" for controlling COVID-19 identified by Resolve to Save Lives, the organization led by former CDC Director Dr. Tom Frieden.
Some key findings from Philadelphia: According to the Studio Ludo study, women were seen wearing masks much more than men, seniors were the most likely to wear masks, and there was very little masking at playgrounds. The study also assessed whether people were observed wearing masks properly. Six percent of people observed wore a mask but failed to cover their mouth or nose. Another 10 percent visibly had a mask with them but were not wearing it.
"I think people are trying," said Talarowski, who added that her team is looking to partner with other cities, universities, and citizen scientists to collect data nationally — send an email to admin [at] studioludo.org to express interest. "Most people are at least attempting to mask."