​
How the moon landing is now inspiring local problem solving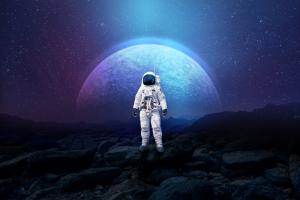 In the book "Mission Economy," economist Mariana Mazzucato examines the Apollo program's success in landing a human on the moon in the 1960s — and challenges the public sector to take on new missions on a grand scale aimed at solving today's biggest, most complex problems.
It's a framework that's easiest to understand at the level of central governments, where resources are deep and influence over economic forces is strong. But can mission-oriented strategies work at the local level, too?
Professor Mazzucato and her team at University College London's Institute for Innovation and Public Purpose (IIPP) are finding out. For the past few years, they've been working with local administrations in Greater Manchester, the London Borough of Camden, and other jurisdictions on developing and implementing missions on everything from becoming carbon neutral to boosting economic opportunities for youth to ensuring food security.
Late last year, the team took their engagement with local leaders further. In partnership with Bloomberg Philanthropies, they delivered a five-week "Mission Boot Camp" to mayors and senior staff from ten global cities. Those cities included Adelaide, Australia; Durham, N.C.; Madison, Wis.; Providence, R.I.; Reykjavik, Iceland; San Jose, Calif.; Saskatoon, Canada; Sofia, Bulgaria; Stockholm, Sweden; and Tampa, Fla.
To find out what city leaders are learning about how to apply a mission-oriented frame to their work, Bloomberg Cities spoke with IIPP's Rainer Kattel and Ryan Bellinson, who led the Mission Bootcamp. 
What is the missions-oriented mindset all about? 
Rainer Kattel: If you go back to the moon mission, a lot of the solutions didn't exist at the time. As Mariana likes to say, it wasn't just about space technology. It was also about things like clothing, materials, communications, and food that needed to be there for people to actually be able to go out in space. The mission enabled lots of innovation in various sectors, but it was supported by one big goal. 
In general, it goes back to this idea that governments need to think big in order to actually enable various sectors—from universities to companies to cities—to innovate around problems that may seem intractable. And they need to create a pathway to do it. 
What are examples of problems where local leaders can apply a missions-oriented approach?
Kattel: You can think of socio-economic issues like crime or homelessness. Or sustainability, and mobility and rethinking the ways we use streets. Vision Zero, those policies around eliminating traffic-related fatalities, is a kind of mission. It's about being ambitious and not only looking for low-hanging fruit.
Ryan Bellinson: It also can apply to something every city does: strategic planning. Oftentimes, each department has its own objectives for the administration's next five, 10, or 20 year strategic plan, developed in isolation. But if instead you're looking at a mission of, say, eliminating homelessness, it forces leaders within the administration to think about how those departments work together across all the different components of the objective, whether it's affordable housing, mental health services, or skills, so that those pieces are joined up.
How is this different from any other big items a mayor has ever put on their to do list? What makes missions different?
Kattel: What the mission-oriented framework gives you as a politician or a policy maker is a way to devise a strategy that has longevity. So there's a goal maybe 20 or 30 years down the road that we're building towards. And we are building towards it by trying new structures and ways of working across departments and ways of including citizens more. 
Bellinson: That political longevity is really key. It's up to the mayor to use their convening power to bring different actors to the table. And then to ultimately cede ground to a wider group of individuals, interests, and organizations that are assembled so it becomes a broad shared priority with ownership diffused across many organizations.  When that mayor eventually leaves office, the terrain will already be in place for that priority not to go away.
You have five criteria for what makes a mission—what are they?
Bellinson: The first criterion is that the mission has to be bold and inspirational, and have wide societal relevance—it should capture the public's imagination and be exciting.
Second, missions have to set a clear direction, and that includes having targets that are measurable and timebound. You need to be able to know whether the mission is being achieved or off track. 
Third, missions need to be very ambitious — but achievable through innovations and new ways of working. 
Fourth, missions need to encourage cross-sectoral, cross disciplinary innovation activity.They're supported by collaboration across multiple departments and sectors, that can shape action holistically.
Lastly is what I'm most excited about: Missions involve multiple bottom-up solutions. During the program, we talked a lot about 'snowballing' a portfolio of innovation projects that start small and build up over time. This is an area where involving subject-matter experts, community organizations and residents in the design and co-production of projects is critical.
What are some of examples of places putting missions-oriented thinking to work at the local level?
Kattel: Camden is an interesting example. It's one of the most unequal parts of London - it has great wealth housing Google and our own university, but at the same time contains some of the most deprived areas in London. They've launched four missions. One is to see those holding positions of power to be as diverse as the community by 2030—with the next generation being ready to lead. Another is for everyone to be able to eat well every day with nutritious, affordable, and sustainable food by 2030. 
In Sweden, the city-level work is led by a national innovation agency, Vinnova. They are trying to figure out missions that can be shared by multiple cities. For instance, they're looking at how to get rid of cars from the streets and give streets back to the citizens. They're doing a lot of experiments in cities to find different solutions and ensure there's a lot of learning.
Bellinson: Of the cities from the Boot Camp, we saw missions primarily emerge in three areas. We're seeing a lot of green missions focused on climate mitigation or air quality. That's the case in Reykjavík, where they're talking about becoming carbon neutral by 2040. Or Sofia, where they're striving to meet international standards for healthy air quality by 2035. 
Other cities were using missions to focus on reclaiming and valuing public space. Cities like Providence were thinking about how to use curb space differently at a time when there's changing demands from delivery services and new mobility operators. Or Tampa, where they were looking at providing all residents safe and equitable access to green space.
And then there's a theme around social justice, equity, and inclusion. We had Durham that was experimenting with missions as an approach for tackling gun violence. Or Saskatoon, tackling homelessness, which has a lot of intersections with the marginalized Indigenous community there. In those cities, the mayors and administrators were really thinking about the governance of safety, the governance of social justice, and how they involve different communities. 
What are challenges cities encounter in this work, and how do they overcome them? 
Bellinson: Funding comes up a lot: Very few cities would ever say they have enough financial resources to do what they need to do. But one thing missions can offer is a way to think about finance differently. Through missions, cities have to think about how different departments can pool their budgets to solve a common challenge. And you're thinking about finding synergies with partners to collaboratively design a project together using collective resources. 
We're seeing this in the UK in Greater Manchester, which has a mission to achieve carbon neutrality by 2038. The Greater Manchester Combined Authority has very limited resources. But because they've set a shared vision and established trust among lots of different partners, we're seeing ambitious ideas like a publicly owned energy innovation company being created through a joined up partnership framework. It will produce and sell renewable energy to residents and businesses, and its revenues will be reinvested into the company. So this is something that started with very limited public resources, but is moving forward because of strong collaboration between lots of different organizations.
The second issue is around overcoming siloed ways of working. It's helpful to have a strategic designer on board — someone who can bridge the different languages and cultures across different disciplines, and find pathways to bring those people together to solve problems. Missions require thinking in an integrated way. 
What lessons did you see cities in the bootcamp taking from the work?
Kattel: Everybody seemed to be quite taken by this idea of snowballing. That you don't need to be building something as big as the space program, but can actually just take one street, start from there, and start learning. Missions can seem big, but you don't need to start from something big. 
Bellinson: This is a long-term approach to systems change, and there's a lot of forethought that has to go into it. So some of the cities are thinking about what are the different tools, what are the different ways of working, what are the different capacities that are encompassed within mission mindsets, and how they can apply that? In Durham and Saskatoon, for example, they're thinking about the kind of collaboration approaches that are needed to take missions forward.
We're hoping that the cities we've worked with through this program will continue to engage with us. We have a Mission-Oriented Innovation Network that any public-sector organization is able to join (email Nora Clinton at n.clinton [at] ucl.ac.uk (n[dot]clinton[at]ucl[dot]ac[dot]uk) for details). The network is a space for organizations interested in missions to be able to share lessons from how they've taken pieces of this approach forward, what's working and what isn't working, and learn together within a wider community of practice. Hopefully for the cities that are interested in missions, this is just the start of a longer term journey.