How flu-shot campaigns can be a dry run for a COVID vaccine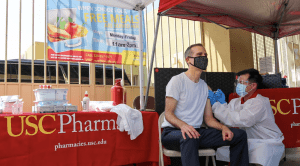 September 25, 2020
While all eyes are on the development of a COVID vaccine, cities are turning their immediate focus to ramping up vaccination campaigns for seasonal influenza.
Los Angeles' Eric Garcetti, Milwaukee's Tom Barrett, and Noam Bramson of New Rochelle, N.Y., are just a few of the city leaders who rolled up their sleeves for a flu shot this week, cameras in tow, in efforts to lead by example. Along with the photo ops came announcements of free flu-shot clinics, expanded outreach efforts, and new community partnerships, all meant to reinforce the same message: There has never been a more critical time to get a flu shot.
Experts say these pushes are critically important during the pandemic, when even a typical flu season — that would send somewhere around 450,000 Americans to the hospital and kill 36,000 — could put unbearable pressure on cities' already-strained healthcare capacity.
Equally important, experts say, this year's flu campaigns can serve as something of a dress rehearsal for a COVID vaccine, offering city leaders a chance to test out and learn from new approaches at ensuring the vaccine is distributed widely and equitably.
As Dr. Joshua Sharfstein of the Johns Hopkins Bloomberg School of Public Health put it: "It's time to get thinking about how you can get flu vaccine nearby, how you can engage local leaders to talk about the flu vaccine, and how you can think about innovative ways to generate interest in vaccination." He suggests cities focus their flu efforts particularly on older adults and communities with high rates of COVID cases and deaths.
In Albuquerque, N.M., Mayor Tim Keller is talking about his city's expanded push around flu vaccinations this year as a "dry run for when and if there is a coronavirus vaccination." An initial focus will be city employees and their dependents, a group totaling about 18,000 people. The city also is partnering with the New Mexico Immunization Coalition to plan flu vaccination clinics across the city, with outreach targeted at older adults, kids under 5, pregnant women, and people with chronic conditions. "Our city is going to be prepared for a very strong push, a very equitable push, to get everyone their flu shot," Keller said.
While many residents will get their flu vaccines at doctors' offices or pharmacies, Albuquerque is eager to test out its drive-through vaccination model. Dr. Mark DiMenna, who is Deputy Director of the city's Environmental Health Department, said he expects this offering to appeal to people who are reluctant to stand in line at a clinic and risk coronavirus exposure. And he hopes this experiment will teach the city a lot about how to best administer a COVID vaccine.
"It gives us an opportunity to have real live test drills, doing exactly the same thing except with a different product in the syringe," DiMenna said. Planners expect to learn a lot about the logistics — from traffic flow to security needs — which could be intense if and when a COVID vaccine comes along. "We're going to push this model hard enough that it might actually break a little bit, but that's kind of the point," he continued. "We want to challenge our expectations so that we know if they're realistic or not. And then those hard-won lessons are going to be very applicable to everything we do from this point on."
Other cities are ramping up additional flu vaccination strategies. Baltimore is aiming for 70 percent of its population to get vaccinated, which would be a huge jump — last year, no age group in Baltimore saw more than a 50-percent vaccination rate. The city's most intense outreach is focused on its most vulnerable residents, including seniors, homeless residents, and Black and Latinx communities.
For example, it's offering door-to-door vaccinations at senior housing sites, plans a big push in homeless encampments, and is zeroing in on Latinx residents in one ZIP code. In addition to boosting the flu vaccination rate, Baltimore plans to evaluate these experiments and document lessons that can be applied toward distribution of a future COVID vaccine.
In Los Angeles, a mobile flu-shot clinic began making stops this week, setting up this week in East L.A. and next week in Crenshaw. The initiative, a partnership with the University of Southern California School of Pharmacy, provides flu shots for free and with no appointment required. In Detroit, the city is prioritizing flu-shot distribution with people living in emergency shelters, adult foster care facilities, and senior living facilities, and is targeting neighborhoods with historically low vaccination rates with clinics set up through a partnership with the Henry Ford Health System.
Motivating people to get a flu shot is a challenge every year. But Albuquerque's DiMenna said city leaders have good arguments to make right now. Not only will getting shots protect them from the flu and help pave the way for a successful COVID vaccine, but it also will give residents agency at a time when many people are feeling helpless.
"This gives people a little bit of something you can do today," DiMenna said. "Something that meaningfully takes a bite out of the pandemic's impact until there's a COVID vaccine."