​
Helsinki innovator is using digital tools to proactively serve residents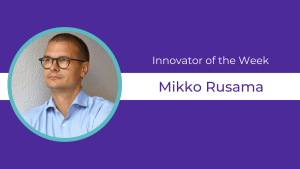 Title: Chief Digital Officer
City: Helsinki
When Mikko Rusama arrived in Helsinki city government three years ago, he had no team or budget—just a mandate from the mayor to figure out what the city needed to supercharge its digital services. Now, he heads a new Digitalization Unit with roughly 200 staff and a budget of about $120 million.
A big focus for Rusama is using digital tools to more proactively serve residents. For example, last January, Helsinki tried a new approach for parents to enroll 6-year-olds in kindergarten. Instead of requiring the parents to find and fill out the right form and wait months for a confirmation, the city sent a simple text message to 5,600 parents. Your child is eligible for a school placement, the message read. Would you like to use it? About 90 percent of parents responded quickly with a Yes. Done.
"Traditionally, cities are very reactive," Rusama says. "Why should we force people to come to city offices to use city services? We have to turn that around."
That strategy, powered by a lot of personal data, leads directly to Rusama's second big focus: Moving toward what he calls a "human-centric" use of data. Helsinki has signed on to the MyData Global Network, a group of organizations committed to the idea that persons' consent to have their personal data used must be freely given.  "We have to lead the way on human-centric use of data," Rusama says. "We are building a capability that gives citizens a better view on what data the city is using, and also the possibility to give consent, or revoke that consent."
Rusama is clear, however, that not all problems in local government require technology solutions. Helsinki was one of eight European capital cities to participate in Bloomberg Philanthropies' Digital Innovation Initiative. Helsinki's challenge was to help unemployed workers find jobs—a service that once belonged to central government in Finland but now is transitioning to local control. In their research, Rusama's team found that tech was most helpful in onboarding job seekers into the system, for example, by sending them text-message reminders to show up for their appointment with an employment agent. But otherwise, what mattered most was to enable the job seeker and employment agent to have as productive a face-to-face conversation as possible.
"One of the findings was that the quality of those interactions was critical, so the key question was how to have deeper interactions between the unemployed people and agents to have more impactful meetings," Rusama says. "Rather than jumping to some technology solution, the team really tried to understand what is the actual problem we need to solve?"
Pro tip: "It's not enough to have an ambitious vision. You have to have execution power, and the resources to pull it through. That means you need support from the mayor and the top executive team. Without them, you fail."