​
Finding "the best" at using data is just the beginning for What Works Cities
There's a lot more to What Works Cities Certification than recognition of the most data-driven cities. There's also a suite of top-notch supports available to cities at any stage of their data journey. What Works Cities Managing Director Rochelle Haynes explains.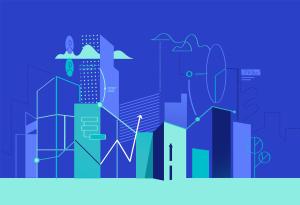 As 55 cities achieved What Works Cities Certification over the past six years, they have received a lot of attention and praise—and they deserve every bit of it. Earning Certification means these cities are among the very best at using data and evidence to deliver results for their residents. They're also building a true data practice, with lasting skills and tools, within their city halls. 
Yet they're far from the only cities making big gains in their data work. Nearly 200 additional cities have already stepped up their data game through the What Works Cities Certification process, including cities of all sizes and skill levels. The number and diversity of cities joining this movement has only grown since Certification opened last year to include cities in Latin America and Canada. 
Bloomberg Philanthropies launched What Works Cities Certification in 2017 as a way to recognize and celebrate the most data-driven cities in the U.S. The first nine cities became Certified in 2018. In 2020, Los Angeles and Louisville, Ky., were the first to achieve Platinum Certification, the top-tier of recognition. 
There's a lot more to Certification than recognition. There's also a suite of top-notch supports available to cities at any stage of their data journey—whether they're already advanced in terms of their people, policies, and practices, or just getting started. And those investments are making an impact.
Here are three ways cities and the residents they serve benefit when local leaders participate in the Certification process.
Know where your city stands. A lot of city leaders tell me they want to get better at using data but don't know where to start. The answer: Start here by taking this self-assessment of current data practices. The assessment provides cities a baseline read on their strengths and weaknesses across 43 criteria, including everything from policies on open data to results-driven contracting. It also makes clear how each city stacks up against others, and gives them a roadmap for where to focus improvement efforts. 
Another benefit of assessment: It gives data champions across city hall an opportunity to team up, reflect on progress and opportunities, and engage top political leaders and managers. Often, that process leads to new funding and staff. That's what happened in Longmont, Colo., which, after undergoing its first assessment a few years ago, added staff to lead and sustain data work  and then last year became one of the smallest cities to achieve Certification. In the past year alone, 48 cities have taken a What Works Cities Certification assessment for the very first time. 
Get help. For cities, completing an assessment opens the door to a wealth of technical assistance from Results for America and partners such as the Bloomberg Center for Government Excellence, The Behavioral Insights Team, the Harvard Kennedy School Government Performance Lab, Public Digital, and more. City leaders with ambitious growth goals immediately get paired with an expert coach, who helps them develop an action plan tailored to their city's needs and aspirations and keep city leadership engaged in the journey. They also gain access to webinars, office hours with experts, and learning sprints on topics from beefing up data governance to how to run randomized control trials. 
Every one of these learning opportunities is aligned with the 43 Certification criteria. As city leaders participate, learn, and take action, they can document those advances and see their cities' assessment scores go up—as Cambridge, Mass., Glendale, Ariz., Memphis, Tenn., and others have done. Following a recent learning sprint on program evaluation, three cities committed to building an Evaluation 101 training curriculum to share the learnings from the program with their own employees. 
Connect with peers. As the data movement in cities builds, we're building a community of practice through peer exchange workshops, discussion boards, and other pathways for city leaders to connect, learn from, and inspire each other. This growing community includes nearly 300 city leaders from 96 cities in the U.S., Canada, and Latin America, and it's becoming a vital place of mutual support and shared learning. 
For example, leaders from two U.S. cities recently traded notes about how they're using artificial intelligence in their analytics and decision making. Users have also found the WWC Community Forum to be a useful place to get tips on federal funding opportunities, swap training curriculums, and get advice on data visualizations. They value having a safe space where city staff can candidly share the challenges they're facing and ideas for overcoming them. 
It can be tempting for city leaders to view Certification like a medal their city wins after finishing a race to the finish line. A better analogy is that this work is like a video game your city works to master—and then continues to build its skills in hopes of leveling up and up in the face of new challenges. We've even borrowed the concept of "leaderboards" from gaming to encourage friendly competition and shared purpose among cities as they strengthen their data practice together.
That's important because there's really no endpoint to this work or perfect state for cities to arrive at. Technology charges ahead and best practices are evolving, which is why we made several significant updates to Certification criteria last year. Whether your city is Certified as one of the best, or just getting started, it's the journey to improve and deliver results for residents that matters.
Join the What Works Cities Community today! Take this self-assessment of your city's data practices to get started.
Rochelle Haynes is Managing Director of What Works Cities