Expert to mayors: Masking up is a 'pillar of pandemic control'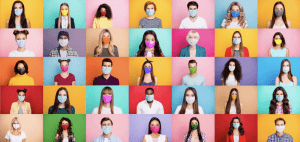 September 18, 2020
In the fight against COVID-19, mayors have been on the front lines of encouraging the public to wear face masks, and often leading by example, without support from Washington.
Yesterday, they picked up new insights — on the critical role masks play in guarding against transmission of COVID-19 and how to communicate this information to residents. In an online coaching and learning session as part of the Bloomberg Philanthropies COVID-19 Local Response Initiative, Dr. Monica Gandhi of the University of California, San Francisco explained why facial masking "is one of the major pillars of pandemic control."
Gandhi reviewed the research on masks, and underlined a conclusion that is more clear now than it was early in the pandemic: that properly worn masks protect both the people wearing them and those around them. Face coverings decrease transmission of the virus that causes COVID-19 and also could make the disease less severe for those wearing them.
"Masks reduce transmission risk to the wearer, as seen for other respiratory viruses. And even if you're unlucky enough to get exposed to someone who has the virus, and you get the virus slipping through some of the mask, you may be more likely to get a very mild case of the disease," Gandhi said. That's critical information that city leaders need to incorporate into their public messaging, as the city of San Francisco has done, she said.
Gandhi offered other answers that mayors can use when asked common questions about masks. When residents express concern about breathing in enough oxygen while wearing a mask, they can confidently respond that studies show no reason to worry: "We feel very comfortable that we can take that concern off the table, that there's any reduction in oxygenation," she said.
[Read: In push to normalize mask-wearing, mayors lead by example]
Another common set of questions relates to a recent study, widely reported in the media, showing that neck gaiters and bandanas offer very little protection compared with surgical masks or certain homemade cloth masks. Gandhi said she would not eliminate gaiters and bandanas as options if people find them comfortable enough to wear regularly.
"We are asking the population to wear masks for up to a year," Gandhi said. "I would rather say 'use what's comfortable' than take options off the table…. Wear anything that covers your mouth and nose, has a tight enough seal around your ears, and is comfortable."
In addition to the communication tips, Gandhi offered a number of other pieces of advice for mayors:
Model behavior by wearing a mask in public and setting a good example for your community.
Provide people with masks, as it's proven to increase their use.
Mandate masks, if possible, and enforce those mandates.
Monitor compliance with mask wearing through surveys and other methods.
Use data when advocating with other levels of government.
Remember that masking alone is not enough — social distancing and hand washing remain important methods of preventing spread of the virus.
To get the full benefits of mask wearing, Gandhi said, at least 80 percent of the population needs to be regularly wearing them. We're not there yet, she said, but working to get there is better than more blunt tools like locking down the economy. "Masking takes behavior change," Gandhi said, so what mayors need to be asking is, "How can we help with that behavior change?"
(Photo: ShutterStock)