Data is central to this innovator's planning process for projects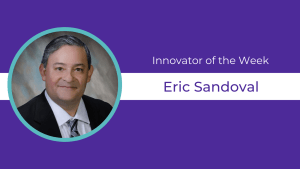 December 15, 2021
Title: GIS Administrator
City: Salinas, Calif.
Salinas is one of ten new cities to achieve What Works Cities Certification, the national standard of excellence for well-managed, data-driven local government. And with a population of about 150,000, it's one of the smallest ever to earn the distinction. 
Eric Sandoval is a big reason for that. Sandoval, hired in 2016 to run geographic information systems for Salinas, has put on a number of additional hats since then. He also leads a cross-departmental innovation team, and coordinates the city's open data, "smart city," and performance management efforts. The through line across all of this work is Sandoval's belief that city leaders need to have actionable data at their fingertips to make good decisions. 
A good example is what Sandoval and his colleagues have done with trees. Salinas never had a true inventory of its trees—where they are, how many there are, the species or age. Putting all that information into a database was a big help for the Urban Forestry Department to know where trees need to be planted or trimmed. But it's also helped managers in other departments, too, to assess the value trees play in absorbing carbon, stormwater, and even with traffic calming (street trees have been shown to slow drivers down). 
"The data lends itself to many different programs," Sandoval says. "These are all things we couldn't assess or evaluate—and use the information to apply for grants—if we were just relying on Urban Forestry workers, because they can't keep track of 36,000 trees by memory," Sandoval says. 
Sandoval is particularly proud of the strides Salinas has made in engaging residents in decision-making. While rewriting the city's libraries and parks plan, he says, city leaders held no less than three dozen outreach events across every neighborhood. Still, when they looked over the feedback, they noticed that one community in the northern side of town was underrepresented. So they went out and held even more events targeting that area. 
"To me, that says a lot," Sandoval says. "They could have said, 'we had 700 participants and comments,' and nobody would have begrudged them moving forward….but to redouble your efforts shows a cultural mindset of wanting to work with and partner with the community." 
Pro tip: "Language matters. It's not that city staff works for the community. What we should say is staff works with the community."
Read more on how Salinas uses data to improve servicce to residents here.
Check out the ten new cities to attain What Works Cities Certification as well as other cities that have become Certified since 2018.