​
Crises demand innovation; here's how to do it best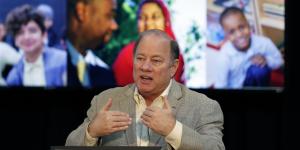 The COVID-19 crisis has sparked a wave of municipal innovation at an unprecedented pace and scale.
Every day, city leaders are building solutions that they probably couldn't have imagined just a couple months ago. They're renting out entire hotels to serve as quarantine sites; rounding up donations of masks, gloves, and other protective equipment; converting convention centers into field hospitals; launching vast testing programs; firing up relief funds for small businesses, musicians, and artists; opening streets for safe social distancing; standing up food delivery networks for seniors and children; and so much more.
All these fast-paced experiments are examples of what Harvard Business School Professor Mitchell Weiss calls "possibility government." They're defined by the possibility that novel action could work to help solve big problems, rather than the usual public-sector urge to play it safe.
How city leaders can channel more of that entrepreneurial spirit — and get even better at it as they go — was a main topic of conversation at the most recent learning and coaching session of the COVID-19 Local Response Initiative. Weiss started by praising the hundreds of mayors and other city leaders on the call for their audacious leadership in the face of an unfathomable health, economic, and social crisis.
"You've been inventing new programs and new services every day, standing up new ways to keep people home, to have them eat, and help them learn how to protect their businesses," he said. "So my goal in sharing 'possibility government' today isn't to invite you to do it, so much as to give you a bit of language for describing what you have already been doing, with the hope that it might help you bring others along."
[Get the City Hall Coronavirus Daily Update. Subscribe here.]
With that in mind, Weiss offered three things mayors can do to strengthen their cities' innovation muscle in a time of crisis.
1. Source ideas widely. Government is typically structured to make choices based on existing services and programs. However, innovation requires casting a wide net for ideas, Weiss said, not just from subject-matter experts, but also from residents and non-experts who can offer diverse perspectives. Sometimes, that requires shaking up teams. "Getting those new ideas out of existing teams can be tough," Weiss said. "It's not because of any lack of competence — in fact, they're experts in what they've always done in the past…. What you need is people who are going to help you become experts in the future."
2. Enable experimentation. Once you have a good idea, what the mayor can do is to encourage people to try it, Weiss said. Don't immediately aim for perfection. Start small, building a "minimally viable product" that can be tested with real users, and learn from the results. Ideas that don't prove out can be scrapped, while those that show more promise can be improved, tested again, and improved iteratively. Weiss encouraged mayors to have "many of these small experiments all across your COVID-19 response so that you're not putting all your eggs in one basket."
Critics in the community and press can be quick to jump on experiments that don't go well, so it's important to set expectations carefully, Weiss said. "Promise that, at least at the beginning, what you're after is quick learning — don't over-promise success." Pointing to the whirlwind days of mid-March, when mayors raced to enact stay-at-home orders, Weiss said a bias toward action is sometimes necessary. "The leader's job," he said, "is to remind people that the status quo is not always the safe choice."
3. Scale up. Local governments don't have vast resources — especially now. But when it comes time to scale up an idea that promises great impact, mayors have a singular power to convene people and organizations in their communities to act together to solve problems. "Think about government as a platform," Weiss said. "Use it to connect the residents, the businesses, the social-sector organizations, so they can all make each other better off."