Crafting policy to guide the use of surveillance technology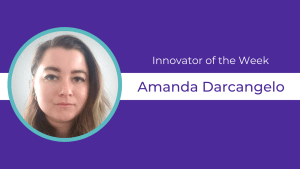 February 3, 2021
Name: Amanda Darcangelo
Title: Data Engineer
City: Syracuse, N.Y.
Today's cities have access to a growing number of tech tools—sensors, cameras, drones, and others—that promise to help them manage traffic, fight crime, monitor air quality, and more. But, in addition to these efficiencies, these new systems also raise privacy questions—especially when it comes to the data they collect and what cities do with it. 
Amanda Darcangelo recently crafted a new policy in Syracuse to bring transparency and a stronger community voice in this area. Going forward, when new technologies are up for consideration, a working group representing both city hall and a number of community groups will vet them. Those technologies deemed to function as "surveillance" will go through a public comment period and further review by the working group. The final call on whether to use it lies with the mayor. 
Darcangelo, a data engineer with the Syracuse innovation team, says the new policy is a big step forward for data governance in the city. It puts Syracuse in a position to keep up with advances in surveillance technology while taking community concerns into account before anything gets implemented. "One really important thing we learned was make sure to work with other departments as you build something like this out," she said. "Department heads are very, very, very on board with this because they had a say in what went into it."
Pro tip: "It's extremely important to have support from the highest levels of government in what you're doing. It gets you into a lot more rooms and meetings."