​
Cities use innovation to get smarter about infrastructure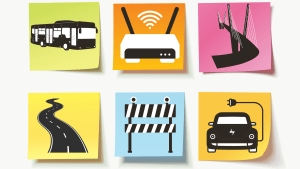 With $1.2 trillion in federal infrastructure funding about to hit U.S. cities of all sizes, local leaders everywhere are looking for new ways to maximize this once-in-a-lifetime opportunity to improve roads, parks, bus fleets, renewable energy, flood defenses, internet access—and, most importantly, residents' everyday lives. 
Leveraging innovation tools like data, collaboration, and resident engagement will be critical to this effort—both to ensure that investments solve real problems and that they meet White House guidelines and local goals around equity, climate change, economic development, and more. 
And while the funding opportunity is unprecedented, a growing number of cities in the Bloomberg Cities Network are already demonstrating how innovation can supercharge infrastructure advancements. Here, we dig into some of these already-underway projects to uncover ways they can inspire further infrastructure endeavors in the months and years to come. 
Orlando: Fostering a culture of infrastructure collaboration
Chris Castro, the Director of Sustainability and Resilience in Orlando, Fla., convened a remarkable meeting a few weeks ago. He gathered in one room about 70 people representing just about every government agency or entity in the Orlando area that is eyeing infrastructure dollars—from city, county, regional, and state agencies to public schools, colleges, and universities, the airport, a local expressway authority, and others.
The goal: To get everybody on the same page about what infrastructure projects to pursue in the Orlando region—and to work closely together on developing proposals.
They started by hearing directly from federal transportation, environment, and energy officials about what funding is available and things they'll be looking for in applications, such as a focus on equity, inclusion, and climate. Each agency and organization shared its own local priorities. They then broke out into groups focused on key topics, such as decarbonization and transit-oriented development, and prioritized projects based on potential impact and relative difficulty and began identifying the stakeholders and metrics that would be needed to make promising ideas both successful and measurable.Those workgroups will continue meeting over the coming weeks and months to refine their proposals.
Castro says the convening tapped into a collaborative culture that local leaders have been carefully building in the Orlando region, and hope to leverage to bring in federal dollars. "Partnerships are the only way forward," he says. "If we approach these things in silos, we'll never fundamentally transition toward a cleaner future."
Castro points to Orlando's push for electric buses as a good example of local collaboration, which accelerated through the city's participation in the Bloomberg Philanthropies American Cities Climate Challenge. The city, the local transit authority, and the city-owned electric utility teamed up to cover the cost of charging infrastructure through an innovative financing scheme that has Orlando ahead of schedule on its quest to roll out a zero-emission bus-rapid transit system downtown. Castro calls the setup, aided in part by federal grants, a public-public-public partnership.
"This partnership allows us to share the upfront costs of this transition," he says. "Secondly, this is complex stuff. Especially with electrification, if you're not engaging your utility, you're not going to electrify your fleet."
Syracuse: Using data to make safer sidewalks 
The state of the sidewalks in Syracuse, N.Y., has been a big problem for a long time. Actually, it's been two problems.  
The first challenge is keeping the sidewalks clear of snow—10 feet of it per year, on average.  The second is fixing cracked and broken sidewalks that are hazardous to walk on. Both issues have long been the responsibility of property owners, who don't always do their part—and who don't like being stuck with repair bills that sometimes top $10,000.
Mayor Ben Walsh talks about sidewalks as a public good that local government has a responsibility to take on. And when he asked Chief Operating Officer Corey Dunham to find a solution, she knew what to do first: get data. Syracuse is What Works Cities Certified, meaning it's one of the best cities around at using data to deliver better results for residents. Dunham reached out to the  Syracuse Metropolitan Transportation Council for data to help decide which sidewalks to prioritize first.
Dunham used that data—including details on pedestrian traffic and vehicle speeds and roadway characteristics—to determine where impassable sidewalks were most likely to force pedestrians to walk in an unsafe street. To begin scaling up a response, she developed a new municipal sidewalk maintenance program, which the city council passed last year. 
Key to the program is that the city takes responsibility for fixing broken sidewalks. And while property owners are still on the hook for snow removal, city-paid teams will ensure that the most critical sidewalks get cleared. To pay for the first year, the city is tapping into federal dollars through the American Rescue Plan. After that, property owners will pay an annual fee that starts at $20 for a residence and eventually grows to $100 as the program scales up.
In a city where a quarter of residents don't own a car, city leaders see taking better care of sidewalks as key to running a more equitable city. And the fact that the program is data-driven, Dunham says, makes it easy to explain to residents that pedestrian safety is the number one priority. "There are so many decisions we have to make with limited resources," she says. "It helps me sleep better at night to know that I can defend the decisions we've made because they're supported by data."
Minneapolis and St. Paul: Using residents' insights to build a better carshare
Carsharing services are nothing new. But with spotty car coverage in many cities, and corporate players who come and go, carsharing has never quite lived up to its potential. 
Now, the Twin Cities are flipping the script on carsharing by partnering with HOURCAR, a local nonprofit that has run a limited carsharing service for 15 years, and expanding the service into a more ambitious initiative that tackles local leaders' climate and equity goals.
"Rather than carsharing being something that cities permit to happen, we thought it was an important enough service that the city should get in the business through a public-private partnership," says St. Paul Chief Resilience Officer Russ Stark.
The result is a new model that launched last month and may be a model for other cities. It's called "Evie Carshare." It will eventually consist of a fleet of 170 all-electric vehicles stationed at 70 on-street charging hubs in neighborhoods across both cities. About half of the hubs will be situated in low-income neighborhoods where car ownership is relatively low. 
The carsharing hubs also include a pair of on-street parking spots where neighbors can charge their own EVs. Stark likens these spots to a down payment on the big job ahead of wiring street parking for EV charging. The electricity comes from wind power, making the whole system as clean and green as it can get.
Evie Carshare was developed in part through the Twin Cities' participation in the American Cities Climate Challenge, using funds from federal, city, state, regional, and philanthropic sources. And in many ways, it really was built by Twin Cities residents. Especially in neighborhoods new to carsharing, residents were paid to participate in focus groups to get feedback on how the service could work best for them. Stark says that feedback directly shaped key aspects of the program such as the pricing structure and the need for vehicles to be located close by. 
"Residents told us, 'I'm not going to walk blocks and blocks to find a car, especially not in winter,'" Stark says. "And so in designing the overall system, we kept it relatively compact in terms of the geography, to try to make sure that there's a really good chance that there's a vehicle and a charging station close to you."
Norfolk: Using data to 'live with water' and reduce flooding
As climate change accelerates sea-level rise, scientists expect the coastal city of Norfolk, Va., to experience some of the most severe flooding impacts in the U.S. City leaders are preparing, in part, by becoming global experts at using data to drive decisions around development and flood protection.
A good example is the redevelopment of an area called Tidewater Gardens. It's a neighborhood of low-rise public housing blocks that experiences some of the city's worst flooding—in part because it's built atop a creekbed that was filled in long ago. As city leaders redevelop the area into a walkable mixed-income community, they're going to open up the old creek, giving stormwater more room to flow while creating new trails and greenspace along the water's edge.
Deputy Resilience Officer Kyle Spencer says the plan echoes the way low-lying cities in the Netherlands are learning to "live with water." And it's built on data from underground sensors that track how much tidal flows back up into stormwater drains—a whole lot, it turns out. "That information goes into these hydraulic and hydrologic models that inform the design of the new system," Spencer says. "We need to know how much water is flowing in the system, where it's coming from, and how much is back flowing. All of that data goes into the model."
The project builds on a lot of other data-driven flood-protection work happening in Norfolk, which earned What Works Cities Certification for its data practices. For example, the city's network of tide gauges sends updated information to a public data dashboard every six minutes. Norfolk also built an online tool that helps residents visualize the flood risks at their homes and understand steps they can take to reduce water damage. Thanks to this and other outreach efforts, Norfolk residents enjoy a 25-percent discount off flood insurance premiums, translating to roughly $200 in annual savings per household.
San Antonio: Collaborating across sectors to close the digital divide
A lot of federal dollars are flowing into expanding broadband internet access right now, both through the federal infrastructure law and the American Rescue Plan before it. San Antonio has been preparing for this moment for a while.
It started back in 2019, with an effort to understand the local digital divide better. Federal data on broadband access is notoriously spotty, so the city teamed up with Bexar County and researchers at the University of Texas at San Antonio to do their own data deep dive. They found that 20 percent of households lack broadband connectivity, with the biggest gaps in neighborhoods that are predominantly Black and Latino. 
That became abundantly clear during COVID lockdowns when schools and workplaces shifted online. Toyota, a large employer in the area, found that many of its workers couldn't get online reliably. The company and other private funders paid to develop a digital equity roadmap aimed at closing internet access gaps entirely. The city of San Antonio and Bexar County each kicked in another $250,000 to launch a new organization called SA Digital Connects to turn that plan into action. The new executive director leading the effort is Marina Gavito, who comes from a private-sector innovation background.
"We knew there was going to be a lot of funding available, not only from the federal government but also the state," says Brian Dillard, the chief innovation officer for San Antonio, who also serves on the board of SA Digital Connects. "We wanted to be shovel ready. And we absolutely are shovel ready."
The effort will require $600 million to meet its goal of eliminating the digital divide entirely in Bexar County. That's a lot, even in times like these when funding is abundant. Dillard believes the cross-sector collaboration the region has put in place is well situated to get there. "We don't want this plan to just sit on a shelf," he says. "With the plan, we have a mode of attack that we're going to execute on."
Have questions about federal recovery funding? Get them answered here. Bloomberg Philanthropies, in partnership with the U.S. Conference of Mayors, has expanded the Federal Assistance e311 program to field local leaders' questions on the federal infrastructure law, in addition to questions about ARP, FEMA, and CARES funds. The program will host topic-specific workshops to provide expert guidance on how to apply for funds, the need for strong controls on federally funded projects, and strengthening partnerships to bolster innovation capacity.