​
Cities redeploy non-essential staff to provide critical services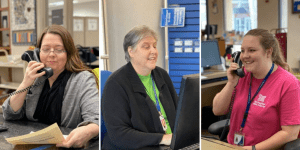 The library in Rochester, Minn., is closed, but the librarians are having no trouble staying busy.
As the city of 120,000 residents stepped up its response to Covid-19 last month, 16 librarians were redeployed to staff the city's hotline for non-emergency calls. Working from home in three hour shifts from 9 am to 9 pm, they're now fielding about 60 questions from residents a day, on everything from what's allowed under the state's stay-at-home order to how small businesses can apply for emergency loans. In a city without a 311 service, the librarians essentially stood one up on the fly.
It's a role that librarians were particularly well suited to pivot into, said Kim Edson, the library's head of reader services and the coordinator of this effort. "Librarians answer questions every day from the public on a variety of topics," she said. "They're very good at researching authoritative services and making referrals. This is what we do. So it was a logical approach for us to provide that service."
For local governments, the Covid-19 outbreak is an all-hands-on-deck moment. As cities across the country are forced to close libraries, recreation centers, schools, and other facilities, they're redeploying city staff to meet emerging and evolving needs related to the pandemic.
In Stamford, Conn., parking enforcement officers are now doing parks enforcement — patrolling parks and beaches to ensure people adhere to social-distancing guidelines. In San Antonio, parks and recreation workers are packing food kits for families and seniors. And in Cincinnati, school nurses have been trained and redeployed to the city's 911 call center to handle non-emergency calls, a move Mayor John Cranley said reminded him of the "Rosie the Riveter" posters from World War II.
School nurses have had a number of additional roles to play, according to Laurie Combe, president of the National Association of School Nurses. In some places, they're joining the army of "contact tracers" public health systems will need to quash the virus. In others, they're working at Covid-19 test sites and helping to set up overflow hospital facilities. "They're a great resource that leaders of communities could tap into," Combe said.
In Burlington, Vt., 10 staffers from different departments have been redeployed to run the city's Covid-19 Analytics Team, said Chief Innovation Officer Brian Lowe. The group includes a research librarian, a police data analyst, and staff from the planning, innovation and technology, and economic development departments. They're specifically tasked with looking across the U.S. and internationally for best practices to inform future decisions before they have to be made.
For example, Lowe said the Analytics Team looked closely at early responses in China, Singapore, South Korea, and Taiwan to understand what interventions were working there, and dug into the literature on what city actions helped most in the 1918 Spanish flu outbreak. "This team was really helpful in identifying some practices that were showing some promise before there was a clear consensus about how a city should move," Lowe said, citing the city's decision to shut down bars on St. Patrick's Day as "a challenging one in the moment that in retrospect was clearly a good decision."
Librarians have been particularly versatile during the Covid-19 crisis. According to a Public Library Association survey released last week, library staff are shifting roles in a variety of ways, from deploying 3D printers to make face shields for healthcare workers in El Dorado County, Calif., to collecting donations of gloves, facemasks, and other protective gear in Ft. Worth, Texas. In Portland, Ore., Multnomah County library staff are supporting shelters for people experiencing homelessness, a vulnerable population that many librarians have some experience and training in working with.
That's something the librarians in Rochester are doing as well, in addition to staffing the Covid-19 hotline. Library workers partnered with the county and other local agencies to set up a day shelter in a local convention hall.
"Librarians and library staff are a very important part of the overall city infrastructure, and are often in a very good position to help with a variety of needs in any kind of crisis," Edson said. "If the cities are not already engaging their library team in emergency planning they should do so, because we can offer a wealth of resources."