​
Cities double down on innovation, even as they tighten their belts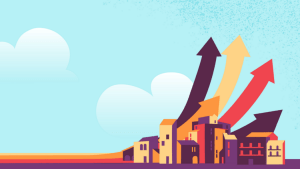 Today's city budgets are tighter than perhaps ever before. But many local leaders are still finding ways to build innovation capacity throughout their city halls — because, as they'll tell you, it's more important than ever to find better, more-effective solutions to the mounting challenges they face.
Even as cities tighten their belts, they're finding ways to improve how their teams use data, experimentation, collaboration, and resident engagement. Many of them are being inspired by the experience of former three-term New York City Mayor Michael Bloomberg and his pioneering philanthropic effort to support public-sector innovation in other cities around the world.
"It's exactly in these moments of budget cuts, chaos, and uncertainty that city leaders need to be the most creative about how they solve their residents' most pressing problems," said James Anderson, who heads Government Innovation programs at Bloomberg Philanthropies. "That's why we're seeing cities bolstering their innovation teams, adding analytical capacity, and building their collaboration skills."
In Albuquerque, they're training staff in rapid experimentation so they can refine and ramp up new ideas that work and quickly ditch the ones that don't. In Cincinnati and San Antonio, they're adding data and innovation teams to help assess police performance. And in Calgary, the city's Innovation Lab is adding three new designers despite a citywide hiring freeze because city leaders have already seen how the team's collaborative approach to resident engagement helps tough projects move faster.
"We're really doubling down on innovation," said Calgary innovation chief Lisa Sierra, whose team will be moving into a new Department of People, Innovation and Collaboration Services as part of a reorganization. "One of the key drivers is being more nimble, innovative, and adaptable."
Here are five reasons why five cities are going big on innovation in 2020.
Minimizing risk and uncertainty
Many of the problems city leaders face these days — from the pandemic to racial inequity to budget woes — feel absolutely immense. Albuquerque tries breaking the big problems into smaller ones. That makes it easier to do low-cost, low-risk experiments, and build upon what works while learning from what doesn't.
It's a technique that Chief Administrative Officer Sarita Nair picked up in a class with the Bloomberg Harvard City Leadership Initiative, an executive training program for mayors and senior city leaders. She's trained all department directors and hundreds more staff in it. "During COVID, it's been great to have that skillset ingrained in people," Nair said. "Being able to use the rapid experimentation model strips some of the risk out of trying new things, and enabled us to be very nimble."
For example, when schools first shut down in the spring, the city faced a huge problem in getting students online for remote learning. Leaders quickly put together a low-cost experiment called "WiFi on wheels" that put internet boosters inside buses parked outside schools and city-owned buildings. It wasn't perfect, but they took what they learned to inform a new iteration that put the same technology in public housing, where it's reaching a more critical mass of children who need it.
"To make that much progress in six months is pretty amazing," Nair says. "And it's a combination of COVID highlighting an inequity, but also our folks' willingness to just try new stuff."
Collaborating to do more faster
Not long ago in Calgary, the city's innovation capacity appeared at risk. An economic downturn had begun a budget reckoning even before COVID-19 arrived. When city leaders asked staff and residents to come up with money-saving ideas, cutting the Innovation Lab was one of thousands that rolled in.
But Sierra had a strong case to make in defense of her team. Calgary's Innovation Lab had become experts at facilitating complicated multi-stakeholder conversations and bringing residents' voices into problem solving. And the city's involvement in the Bloomberg Harvard program had put a fresh focus on the importance of cross-sector collaboration. Sierra leveraged the Lab's strength in facilitating this kind of work to not only protect the Lab from cuts but add staff to take on new roles.
For example, a project aimed at revitalizing the city's downtown tapped her team to get city agencies, business leaders, and other stakeholders on the same page and moving toward a common vision. Sierra said an early meeting of this Downtown Strategy group accomplished in three hours what could easily take six months for a group with so many different interests at stake. One-and-a-half of the Innovation Lab's new staff positions will be funded through this project to keep that momentum going. Other new positions are tasked to similar work at the water utility.
"They ended up asking the Lab to lead that work because they felt like it gave them such clarity in such a quick way," Sierra said. "They were able to connect with all their stakeholders and really frame out what's next and how to move from talking to action."
Engaging residents in problem solving
In Norman, Okla., a cross-disciplinary team of high-level managers from different departments is gearing up for innovation training through the Bloomberg Harvard program. And it comes at exactly the right time, says Mayor Breea Clark, who plans to be an active member of that team.
That's because the city recently decided to re-allocate more than $800,000 from a proposed police budget increase toward community programs. The team will learn how to use human-centered design to work with residents to co-create ideas for the best ways to spend that money to address the root causes of inequality. "We never have enough money to do the things that we need," Clark says, "but we can come up with creative solutions to address some of them now."
What's more, the training will pay long-term benefits, added City Manager Darrell Pyle. "The other huge benefit that we'll wind up with is knowledge of a process that allows for community participation," Pyle said. "It's that ability to show the community pieces of a process and say: 'Are we on track?' 'Is this getting us where we need to go?' We'll be getting an education in a process that can be used over and over and over to solve future challenges."
Using data to identify and address needs quickly
Last year, Paterson, N.J., Mayor Andre Sayegh brought on two new staff — a chief innovation officer and chief data officer — to help drive new ways of problem solving. Their hiring was an innovation all its own: While the two work at City Hall, they are technically employed by a local community college and their salaries are paid by the Henry and Marilyn Taub Foundation.
Sayegh is glad he got them on board when he did. COVID-19 hit Paterson hard in the spring, and it's roaring back again now. His data officer built the dashboard the mayor uses to make decisions on things like what time restaurants must close to clamp down on community spread. And his innovation officer is coordinating with county partners to find homes for people experiencing homelessness through the pandemic, and to reconnect them with family members whenever possible.
"This isn't about saving money, it's about saving lives," Sayegh said. "When we're tracking and tracing and testing, that helps us save lives. And our innovation team is a big part of that."
Making services work better for residents
When El Paso, Texas, set up the city's drive-through COVID-19 testing, leaders flexed two sets of innovation muscles they'd been building through employee training.
One was based on process-improvement methods known as "Lean," which is used to identify where there's waste in a process and eliminate it. As Chief Innovation Officer Roman Sanchez said, that ensured the setup was efficiently designed, reducing opportunities for human error and waste to cause backups or mistakes.
The other was human-centered design. That stressed not just efficiency, but creating a good experience for residents, who show up for testing feeling anywhere from nervous to terrified. "They're seeing all these people in PPE gear and it looks like the movie 'Outbreak'," Sanchez said. "It raises anxiety for folks."
The city has been refining its testing procedures based on input from users in order to deliver a better service that works for them. Steps were taken to protect users' privacy, in response to feedback that having to give their name repeatedly made users nervous. Staff are now trained to use comforting language to help people feel more comfortable.
"I went through testing beforehand, and it felt like they were prepping me for surgery," Sanchez said. "Then the last time I went through, I took my kids, and they were so friendly. And other folks we've talked to have said the same thing."
El Paso is now the beneficiary of two innovation training programs that are teaching staff members to work on multi-disciplinary teams to solve problems together. One is through Bloomberg Philanthropies and the other through the Stanford University Design School. The city is also building a Design Lab in downtown El Paso. Once the pandemic subsides, it'll be a storefront space where teams will meet to do collaborative problem solving, and where any resident with an idea for how to make a better city can come in and workshop it with city staff.
"It's like our human-centered design gym," Sanchez said. "But it's also how we get the word out, and bring our community members in."
Photo courtesy of Shutterstock/Hurca