​
Bringing play streets back to Dublin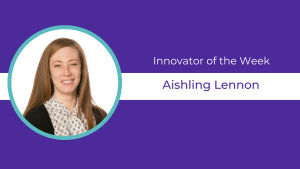 Title: Administrative Officer, City Centre Transport Projects Team
City: Dublin, Ireland
When the city of Dublin closed the thoroughfare Raphoe Road to traffic in order to create a temporary new play space for children, Aishling Lennon and several of her City Hall colleagues made their way around the hula hoops, jump ropes, and paddle balls to ask the kids' parents what they thought of the effort.
Their answers will inform city leaders as they consider ways to tame traffic while balancing residents' needs to get around their city. "We were able to demonstrate to residents the art of the possible," Lennon says. "Imagine if this street wasn't used for route running and was quieter. We gathered a lot of that information and will be feeding it up into several city departments."
The outdoor fun was a prototype of an idea Lennon and her colleagues have been developing with residents for much of the past year. Their cross-departmental team is participating in a Bloomberg Philanthropies Innovation Training program, through which they are learning how to co-design solutions with residents using human-centered design. The idea to test the play street concept grew out of in-depth interviews and workshops with residents about what they want in their community.
Lennon says residents spoke often of two things: Nostalgia for the days when it was safe for kids to play in the street—and the brief return to that way of life during COVID closures. "A lot of people had a really positive experience with their neighborhoods during lockdown," Lennon says. "There was a real sense that kids were able to enjoy the public space for those few months, but that we've gone back to the way it was before where parents can't let their kids out."
Lennon is the learning lead on Dublin's innovation training team, which means she's in charge of consolidating and communicating the lessons the team is picking up. There have been many along the way, she says. 
For example, prototyping the play street concept produced two big learnings. First, that the regulatory barriers around closing a street to traffic were quite difficult and would need smoothing out if Dublin were to scale up this strategy. And second, that recruiting volunteers to help with the setup was quite easy. "We door-knocked about a hundred houses on that road, " Lennon says, "and everyone was really into it."
Another learning is how eager residents are to engage when city leaders approach them in a spirit of listening rather than trying to sell them on something.  While interviewing residents about their concerns, one woman invited Lennon inside her home for tea and biscuits. They chatted for an hour and a half.
"Sometimes when it comes to consultations, there's a fear that things are going to get conflictual if you're at the end of a project and showing people a design they're not happy with," Lennon says. By contrast, in the human-centered design process the Dublin team is using, "you get in early and you're working with people way in advance, from the design stage right through, and the trust just seems to build more organically."
Pro tip: "Get out of the office, away from your desk, and talk to people. You'll find they're really welcoming and willing to participate."