​
Austin's bet to beat homelessness: Engaging people with lived experience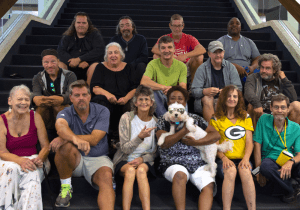 In the four years since Donna Ware lost her home due to a legal dispute, and had to start living out of her car and a storage unit, she has often felt ignored by homeless services.
She's not addicted to drugs or alcohol — so she doesn't require treatment like so many others. And, because she's not a mother or physically disabled, she's low on the priority list for subsidized housing. "They help us based on urgency," Ware said. "I'm number 200-and-something on the waiting list to get housing. There's always people ahead of me."
So Ware was surprised when city leaders from Austin, Texas, asked for her ideas on how to improve homeless services. In fact, the city was pulling together a whole panel of people who have lived experience with homelessness — a group from diverse backgrounds and situations — to continually advise the city and even shape its policies and programs.
Eighteen months later, Ware is a seasoned participant in a citizen-engagement experiment that cities everywhere should be watching closely. She and her fellow committee members, who meet every other Monday, have become a vital sounding board for city leaders on issues like panhandling, outreach, and interactions with police. Their feedback is elevating the perspective of homeless individuals in discussions about the services intended for them to use. And while Ware has yet to find permanent housing, she's found her civic voice.
"It means someone in my situation can be heard," she said. "I'm not just a statistic. It gives me a level of esteem, value, and importance. And it's woken the city up to understand just how many of us there are."
Viewing problems from a people's perspective
Austin's Homelessness Advisory Committee is a product of the city's Innovation Office, which receives support from Bloomberg Philanthropies to help the city apply human-centered design to tough urban problems. Facing a big jump in the number of people experiencing homelessness in Austin, the city's innovation team set out to find solutions by first understanding the problem from the point of view of the people living it.
That's virtually unheard of in the United States, said Kerry O'Connor, Austin's chief innovation officer. When it comes to homeless services, cities and the web of nonprofits they rely on tend to defer to case managers, first responders, mental health experts, and others to speak on behalf of the people using the services. O'Connor says that's a critical omission. "Until you understand the lived experience of people and can bring that qualitative information in," O'Connor said, "you're always going to be flying with a skewed radar that's sending you in a slightly off direction."
Lincoln Neiger, a service designer who facilitates the advisory panel, says cities could use more of a customer-driven focus when it comes to homeless services. "The mentality is more like this is being handed to you, so keep your mouth shut and be happy about it," Neiger said. Austin's homeless panel is beginning to change that dynamic. "Even though you need something, you should still be able to influence the choices available to you."
Steering toward productive feedback
The i-team launched the homelessness advisory panel in October 2017, in close collaboration with staff from the nonprofit Ending Community Homeless Coalition and Austin Public Health. Local service providers referred potential candidates for the committee, which has settled in at between 13 and 16 members. Panelists are asked to regularly attend two-hour bi-weekly meetings at a local library, and adhere to a set of bylaws. They're given a $40 gift card and lunch in exchange for their time and insights.
[Read: Explainer: What is human-centered design?]
Initially, it was rough going. Intense arguments broke out among group members, some of whom struggle with addiction, schizophrenia, or other mental health issues. Everyone in the room had grievances to share about a system they felt had failed them. "We're trying to talk with them about generating ideas for the future, when everybody has an immediate crisis," O'Connor said. "It's a focus group of people who society has marginalized and judged. At first, I didn't know if it was going to work."
Over time, facilitators found ways to steer the group toward productive conversation. They worked in small groups and asked the participants to use different techniques, like role playing and picture drawing, to share their experiences and grow comfortable with offering advice. Neiger said it took about six months to get the group working well together.
A number of city agencies have turned to the group for input. The City Auditor is incorporating their insight into an upcoming report on homelessness. The Office of Police Oversight has asked them for help ensuring the homeless have access to the police complaint process. The group also offered feedback to proposed changes to the city's panhandling laws. And they participated in a hackathon aimed at developing an idea to use blockchain technology to store identifying information that the homeless need to access services.
"People in the city now know they have a place they can go to get that lived-experience perspective," O'Connor said. "They're reaching out to me to say, 'how can we get that feedback into our system'?"
[Read: Prototyping city solutions and launching a revolution]
Committee members have also come up with ideas of their own. Two members — a couple named Bill and Judi — had a plan to deliver travel-sized toiletries to people on the street. They saw a problem that people who have never been homeless might not: that large bottles of shampoo, for example, are a pain to carry around and prone to leaking all over one's stuff. O'Connor's team helped them prototype the idea, stuffing a rollaboard suitcase full of shampoos, soaps, deodorants, and sunscreens to give away.
In a handwritten report on the experiment, Bill wrote, "The people were so excited, like kids on Christmas morning." He and Judi learned what other products were in high demand: bug spray, water, aspirin, and umbrellas. Sadly, their project ended there — both fell ill and Bill passed away late last year. "Seeing the momentum enabled Bill and Judi to try something on their own," Neiger said. "It was an impactful experience to see them moving toward something they were hopeful and excited about."
The next chapter
Over time, shared experiences of suffering and loss have turned the advisory committee into a tight-knit group. Members talk to each other via a closed Facebook group, and regularly turn to one another for advice on how to navigate the system and access services. As facilitators of this group, O'Connor's team has had to walk a thin line. On the one hand, they need to offer members the emotional support needed to provide productive feedback. On the other hand, they're not staffed to provide case management for people living in crisis.
That's about to change. Starting this week, the Innovation Office is transferring oversight of the group to the Austin Downtown Community Court. It's an alternative court that handles offenses like outdoor camping and panhandling — 75 percent of its cases are related to offenses committed by individuals who are homeless. The court's goal is to handle these cases not with punishment but case management from one of its 10 licensed clinical social workers.
[Read: Unleashing the power of public prototyping]
As Robert Kingham, the court's operations manager, explained, court staff will be in a better position to provide on-the-spot needs for committee members when they come up. Kingham sees the roughly $12,000 annual monetary cost of hosting the committee as an investment that will pay for itself. The court spends $4 million a year on support services, and he expects those services to become more efficient and effective as a result of tapping the committee's insights.
"One of the things we've recognized is that these services have not been informed at all by the individuals we are buying them on behalf of," Kingham said. "That $12,000 investment is a drop in the bucket compared to the $4 million worth of contracts housed here. We need to make sure they're the most effective and efficient contracts we can purchase." The court also plans to make the committee available to its sister agencies and nonprofits engaged in homeless services.
All of this is good news to Donna Ware. As someone whose profile doesn't match many common stereotypes about homeless individuals, Ware said it's important for city officials to deeply understand the many life situations that can lead to homelessness. "There are different populations and cultures within that culture," she said.
"Every city should do something like this, and maybe even do it bigger than what Austin is doing," she continued. "It's important to work directly with the homeless, and hear our stories, rather than just try to figure out what we may need. Without this committee, Austin really wouldn't know the diversity that's there in the homeless situation, and how huge the need really is to come up with solutions that help people."