​
5 ways that Certified cities are leading with data
The 16 cities to achieve What Works Cities Certification this year show what's possible when local governments put data and evidence at the core of decision-making.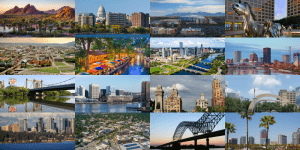 When it comes to using data to make better decisions, city halls in the U.S. have come a long way.
According to a recent report from Monitor Institute by Deloitte, 75 percent of U.S. cities are now using data to monitor their progress toward engaging residents and creating equity and opportunity, and 70 percent are using data in their communication with residents. Those figures are up dramatically from just six years ago, when just 30 percent of cities were using data to track progress toward key goals.
Today, there is more evidence of a data renaissance in City Halls: What Works Cities announced that 16 cities have achieved What Works Cities Certification for the first time. The designation means that these cities are among the nation's best at putting data and evidence to produce better outcomes for their residents and raises the number of U.S. cities to reach the highest levels of excellence when it comes to using data to 40.
What Works Cities Certification, which launched in 2017 and recognizes cities at the Silver, Gold, or Platinum level, evaluates how well cities are managed by measuring the extent to which city leaders incorporate data and evidence in their decision-making. The newly Certified cities include Austin, Texas; Baton Rouge, La.; Bellevue, Wash.; Chattanooga, Tenn.; Detroit; Fort Collins, Colo.; Gilbert, Ariz.; Glendale, Ariz; Irving, Texas; Little Rock, Ark.; Madison, Wis.; Minneapolis; Norfolk, Va.; Portland, Ore.; San Antonio, Texas; and Syracuse, N.Y.
Now that data-driven management is prevalent in city halls across the country, the 40 Certified cities represent what's possible when city leaders take this work to improve outcomes for residents, says Jennifer Park, founding director of What Works Cities Certification. "What our Certified cities are showing is that when cities actually commit to using data, their residents ultimately benefit from it," she says.
Here are five ways that Park says Certified cities are leading the data movement and bettering the lives of residents.
Engaging residents around data
Key to making the most of data is funneling it back to the public in ways that are accessible and relevant to residents' lives, Park says. One example of that in action is Citizen Connect, from Little Rock (Silver Certified). It's an online portal that takes 311 requests, police incidents, building permits and other data and puts it all together on one easy-to-navigate map. The tool gives residents a detailed view into complaints, crime, and new development near their homes, and allows them to sign up for alerts when new incidents happen.
"This gives residents their opportunity to understand what's happening in their cities," Park says. "But they also can contribute to it in a meaningful way, because it's tied to 311."
Another example is the Flood Risk Learning Center managed by Norfolk (Silver Certified), which lies in a flood-prone coastal area that's susceptible to sea-level rise. The tool allows residents to enter their addresses and some information about their property and generate a report that not only visualizes the risk to their homes but also offers tips for how to reduce flood damage. The city hopes it will encourage more residents to buy – and get a better deal on – flood insurance. One user reported that their annual insurance premiums dropped from $12,000 to $1,000 after implementing the site's tips.
Analyzing existing data
It's also important for cities to regularly evaluate existing data to understand how policies and programs can be improved, Park says. Certified cities find ways to disaggregate existing datasets to identify solutions for persistent problems.
For example, as part of an effort to increase city contracting with minority- and women-owned businesses, Baton Rouge (Silver Certified), analyzed five years of contracts, and found that only 5 percent were going to disadvantaged businesses. The analysis showed that the city actually had the ability to spend 21 percent of its procurement money on contracts with those businesses. City officials then worked to unbundle the contracts they were bidding out through the transportation and infrastructure budget to give small-, minority-, women-, and veteran-owned businesses a better chance at working on city projects. The city is on track to exceed its targets; more than $57 million of preconstruction spending has gone to local small businesses.
"Data is a tremendous asset for cities," Park says, "especially as they're thinking about better understanding where and how city programs meet or fail to meet the needs of their communities, especially communities of color."
Training and supporting data leaders
The most data-driven cities know how important it is to build the capacities of city hall staffs to do this work. That's why San Antonio (Silver Certified) launched an Innovation Academy: to train city staff in foundational practices, from data analysis to user-centered design. The academy is a partnership between the city's Office of Innovation, its Human Resources Department, and Alamo Community Colleges, and is raising the city's data game from within the departmental ranks. The program is similar to other academies in cities like Chattanooga (Gold Certified) and Louisville (Platinum Certified).
"City staff members who are working together in these courses come from different departments and have the opportunity to do problem solving together and launch new projects," Park says. "Building the bench and really giving city leaders the opportunity to advance their data skills is critical not only for sustainability [of the data movement] but also so that the city changes its culture around how they use data."  
Partnering with the community
Local government can't solve most big problems on its own. That's why it's so important for cities to build strong partnerships with local community partners, Park says.
A good example of that thinking in action comes from Detroit (Gold Certified). A cross-sector partnership is critical to Ceasefire Detroit, a program that's succeeded at deterring gang violence. Outreach workers use data to identify and engage individuals who at risk of becoming perpetrators or victims of gang violence and target them with jobs and social services aimed at interrupting that pathway.
Another partnership, with Michigan State University, evaluates how the program is working so that the city can make adjustments. A recent study found that program participants saw arrests for violent crimes drop by nearly half in comparison with similar residents not connected to the program.
"To take data-driven government to the next level," Park says, "you have to take it beyond City Hall."
Being accountable to publicly stated goals
Cities that have built strong data foundations are well prepared to take on their biggest challenges. And their leaders are equipped to publicly announce ambitious goals they aim to achieve and transparently track progress toward reaching them.
As an example, Park cites Chattanooga (Gold Certified) and the city's participation in the Built for Zero campaign to end homelessness among local veterans. The work required city leaders to announce its intention to end homelessness for veterans and to share a definition of what that would mean, and then to monitor its progress toward the goal. They made progress by building a by-name list of every veteran experiencing homelessness in the city and coordinating all of the agencies and service providers in the region to provide individualized solutions and resources for every person on the list. In early 2020, the city announced that it had met its goal.
It's just one more way that Certified cities are turning the data capacity they've built toward improving the lives of their residents. Whether it's housing the homeless, combating climate change, increasing access to broadband, or any other challenge, cities that know how to use data and evidence are in a strong position to achieve big goals. "Cities that are Certified signal for their residents that they're both taking these problems seriously and are tackling them in the most effective way possible," Park says. "They are working towards better outcomes for their community with data as a compass."
Is your city ready to become a data-driven leader? Complete this assessment. It's the entry point into What Works Cities' network of expert and peer supports and is necessary for your city to be eligible to achieve What Works Cities Certification. Email certification [at] whatworkscities.org (certification[at]whatworkscities[dot]org) with any questions.