​
5 data practices that demonstrate 'what's next' for cities everywhere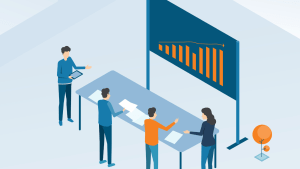 Cities are great at collecting data. But it's what they actually do with that data to make progress on issues and priorities that matters most to residents.
Those that are best at this work are "using data to inform policy and budgeting decisions, evaluate program effectiveness, engage residents, and more," explains Results for America's Lauren Su, who directs What Works Cities Certification, a standard of excellence for data-informed, well-managed local government. "They also are developing new ways of working that other cities can learn from."  
As What Works Cities and Bloomberg Philanthropies add seven new cities to the group of certified cities, now 62 strong, we take a look at some of the data practices that make these cities stand out and, more importantly, can be emulated by others looking to follow their lead.  
Visualizing cities in a new way
Data visualization capabilities are changing the way cities engage residents and empower them with intelligence that might, otherwise, look like nothing more than numbers on a page. Through graphical representation of data, city leaders can improve communication with the people they serve, advance government transparency, and even speed service delivery.  
That's exactly what Buenos Aires (newly certified Gold by What Works Cities) has found with its award-winning platform known as "3D City." Essentially what 3D City does is translate the complex data underlying the city's land regulations into easy-to-understand visualizations. Landowners or developers can use the tool to see what they're allowed to build on any particular lot. And residents can use it to understand what kind of construction is permitted in their neighborhoods, avoiding unwelcome surprises that change the character of their neighborhoods in unforeseen ways. The tool has also helped cut a week off the typical time it takes the city to approve construction projects. 
"It allows any user to visualize in three dimensions what can be built in every single plot of Buenos Aires," says Melisa Breda, the city's undersecretary of evidence-based public policy. Breda notes that the tool runs on open-source software that other cities are free to use if they want to build similar solutions of their own. "Data is one of the most valuable assets cities have. But it's not inherently valuable. Data acquires value only when we use it to improve the lives of residents." 
Making the most of partner data
The most impactful data projects are almost always a team effort—as the agencies that initially collect and house the data can often be different from those who are consuming, leveraging, or sharing it. Looking across government to consider the needs and strengths of all stakeholders can help cities create products with multiple-use cases, maximizing efficiency in development and efficacy in use.
That's been true in Charleston, S.C., (newly certified Silver by What Works Cities) where the Innovation and Geographic Information System offices are increasingly teaming up with each other and other departments to deliver useful data products. 
A good example is TIDEye. The app addresses a growing problem in Charleston: regular flooding that happens even on sunny days because of sea-level rise. It pulls together tide, weather, and road-closure information in one place, giving residents the information they need to navigate the city during fast-changing flooding events. Police are among the biggest fans, as they use the app to plan street closures. 
Innovation Chief Tracy McKee agrees. "There's a lot of folks here that are not only interested in but committed to changing the culture of how we use data in the organization," she says. "It's everywhere—from Police and Fire to Budget and Finance and beyond, there are individuals who are really committed to this work. It's great that we have this synergy in the organization happening."
Fueling cross-jurisdictional collaboration through data-sharing agreements
Just as data has the power to enhance collaboration within a city, it also has the potential, through data-sharing agreements, to supercharge regional collaboration.
That's something Carlsbad, Calif., (newly certified Silver by What Works Cities) is seeing first hand with emergency response. As in many small and mid-sized cities, it's a daily occurrence in Carlsbad to see the local fire company respond to an emergency in a neighboring city—or vice versa. Until recently, Carlsbad had very little data on those cross-border calls for service, which meant it also lacked detailed, real-time data on response times and coverage within its own borders.
To fix this, Carlsbad partnered with its regional dispatch center. Getting real-time data that could be used to track Fire Department performance required paying for tech upgrades at the dispatch center. It also required hammering out a data-sharing agreement. Doing so unlocked not only Carlsbad's data but also the data of more than a dozen other cities in northern San Diego County that utilize the same dispatch center. 
Now, Carlsbad city leaders can see detailed real-time information on their own emergency response teams, as well as cross-border calls for service. They've already used this insight to decide that a temporary fire station was needed in an area where response times were not up to standard. Meanwhile, Carlsbad is helping neighboring localities integrate the same data into their own IT systems. 
"We did not have much, if any, insight into our mutual aid across our borders," says David Graham, Carlsbad's chief innovation officer. "Now we know how much we're providing to those cities and how much they're providing to us. If we're looking only at our units, then we're not seeing the full picture of what emergency response looks like."
Baking tech protections into the way cities work 
As local governments turn to artificial intelligence and algorithms to automate certain decisions and processes, there are concerns about privacy, bias, and transparency. Leading cities are responding by turning to what the OECD calls "algorithmic accountability," which can include everything from outright bans of potentially harmful tools, such as facial recognition, to writing government policy into code to ensure new technologies reflect human-centered values, such as fairness, transparency, and equity.   
San Antonio (newly elevated to Gold certification by What Works Cities) is ahead of most U.S. cities in this work. As part of its data governance policy, the city created a framework to both identify algorithmic tools and differentiate their uses, including whether they're employed in policy making or if they have a "material public effect" on residents' lives. Now it's using that framework as part of its Smart Cities Roadmap to understand how AI is already being used throughout the city. 
Leaders will then use this insight to determine where new policies setting parameters around the city's use of AI and algorithms are necessary. According to Emily Royall, Smart Cities Administrator "Whether or not the organization is ready, departments are already using these types of tools. We want to understand what capabilities our 40 departments currently have. That is going to set the foundation for how we drive policy to shape and change behavior in this space."
Tearing down budget silos with thematic budgeting 
The way many cities prepare their budgets, with individual agencies getting their own allocations for their own activities, can be especially unproductive when multiple departments—housing and social services, for example—are both tackling the same issue, such as homelessness. Data tools can help tear down these silos and, as in the case in Fortaleza, Brazil, develop a new, holistic approach to budgeting.  
Fortaleza (newly certified Gold by What Works Cities) has begun using something city leaders call thematic budgeting in order to identify key priorities, such as improving outcomes for children, and then develop cross-cutting "results agreements" that bring multiple agencies together around common goals. For example, seven departments signed on to a results agreement related to reducing childhood mortality in disadvantaged neighborhoods and now the resulting strategies are closely monitored to see what's making a difference and where funds should be allocated in the future. Other cities, such as New York City, are taking a similar approach at budgeting around key priorities like climate.  
In Fortaleza, there are thematic budgets for children and adolescents, early childhood (ages 0 to 6), and seniors, as well as thematic budgets tied to implementation of the global Sustainable Development Goals and Fortaleza's own 2040 strategic plan. "The secretaries can't solve these problems individually," says Diogo de Matos Pereira, coordinator of planning, budgeting, and monitoring. "We have to work in a group."