​
10 of our favorite moments from CityLab DC
CityLab, the annual celebration of urban life that brings together mayors, artists, business leaders, and activists from around the world, took place this week in Washington, D.C. It was a time for city change makers to trade ideas for solving pressing challenges, make connections, and raise their collective ambitions for making cities work better for all their residents. Here's ten of the most memorable moments from the conference.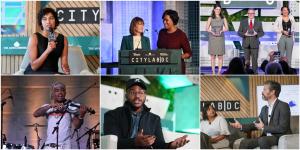 1. A mayor's inspiration
Yvonne Aki-Sawyerr, the Mayor of Freetown, Sierra Leone, described how her work as a private citizen helping fight the Ebola crisis led to her work in city government. "People say, 'One thing leads to another.' But in this case, I suppose that working with the government, particularly on issues which were really challenging, caused me to see what municipality was like, what council was like, what local government was like. I felt there were some gaps, and I thought I might step forward and try to do something about it." (Watch the full conversation.) 
2. Cities step up to lead
In a conversation with CBS's Margaret Brennan, former New York City Mayor Michael R. Bloomberg explained that, despite inaction at the federal level, the U.S. is reducing its carbon footprint thanks to the combined efforts of corporations, private individuals, and local governments. "Go out into the real world. This is where the progress is happening," he said. (Watch the full conversation.) 
3. Showing the downsides of change
Actor Jimmie Fails described how gentrification in his hometown inspired his new film, The Last Black Man in San Francisco. The pace of change "is very violent. It's rapid," he said. San Francisco "will probably be different by the time I get back" from CityLab DC. (Watch the conversation.)
4. Taking action on guns
In a conversation about cities' response to gun violence, Louisville, Ky., Mayor Greg Fischer, who is preempted by state law from passing gun-related measures, explained how he is using his bully pulpit to fuel outrage. "This is a 'Stop the Bleed' kit," he said, holding up a package of gauze and tourniquets. "I told people, 'You need to know what happens if a [bullet] pierces through somebody you know or don't know.' And people were like, 'Oh my God, this mayor is crazy.' But I want you to be outraged — to the point that we demand action from these elected officials. What's radical is that nothing is being done when we lose 100 of our citizens each and every day." (Watch the full conversation with Fischer, San José, Calif., Mayor Sam Liccardo, and Topeka, Kan., Mayor Michelle De La Isla.)
5. Uniting a city around music
The power of music to bring people together in cities emerged multiple times. The Chuck Brown Band, founded by "The Godfather of Go Go," gave the CityLab audience a taste of this distinctly D.C. music. (Watch the performance.) Later, Dave Grohl of the rock bands Nirvana and Foo Fighters offered mayors some advice: open music clubs to people of all ages to inspire the next generation of musicians.
6. The municipal innovation movement spreads
Bloomberg Philanthropies and the OECD released a report and interactive map showing where cities are growing their innovation capacity and what they're doing with it. At the same time, Bloomberg launched an Innovation Training program open to any city with a chief innovation officer. Here's how to apply. And Cities of Service announced the three winners of its 2019 Engaged Cities Award for cities that are innovating in the ways they tap into the ideas, talents, and energies of residents to solve problems. The winners: Flint, Mich., Plymouth, U.K., and San Francisco.
7. Asphalt as a canvas
In response to the growing number of cities around the world embracing art as an effective and relatively low-cost strategy to activate their streets, Bloomberg Philanthropies launched the Asphalt Art Initiative. It includes the release of a Bloomberg Associates-produced Asphalt Art Guide,which features more than two dozen case studies of successful plaza and roadway art activation, and a new competitive opportunity for grants for small and midsized U.S. cities. (Watch the conversation with Oakland, Calif., Mayor Libby Schaaf, Tony Garcia, Principal with the firm Street Plans, and Kate D. Levin and Janette Sadik-Khan of Bloomberg Associates)
8. Grateful for hurricane relief
After telling the story of the story of last summer's protests in her city, San Juan, Puerto Rico, Mayor Carmen Yulín Cruz Soto fought back tears as she expressed gratitude for people's help following Hurricane Maria. "While the federal government turned its back on us, we are very cognizant that the American people opened their hearts to us. And you fed us. And you gave us water. And you took care of our wounds…. As a mayor, as a Puerto Rican, and as a human, I will forever be in your debt." (Watch the full conversation.)
9. Out from the shadows
Ai-jen Poo, the co-founder and executive director of the National Domestic Workers Alliance joined Jose Antonio Vargas, author of "Dear America: Notes of an Undocumented Citizen" in a conversation about the shadow economy that includes many nannies, housekeepers, caregivers, and other undocumented workers. "We think about it as in the margins and in the shadows," Poo said. "But the conditions of this work — gig work, piecing it together, nontraditional workplaces without access to a safety net — increasingly defines the future of work. We think of it as the shadows, but it powers everything, and it could be our future." (Watch the full conversation.)
10. Rethinking the library
Helsinki's Tommi Laitio showed all the ways the city's new central library is redefining the meaning of the word "library." Books are only the beginning. Residents can also use the 3-D printers, sewing machines, or recording studios and can even "check out" some of the library's season tickets to professional basketball games. "In too many cities, libraries are a place that everyone values in principle but very few use in practice," said Laitio, Helsinki's Executive Director of Culture and Leisure. "If you look at the contemporary challenges that we have as cities, you have to rethink the role of libraries in a larger way." (Watch the presentation.)