​
10 memorable moments from CityLab 2022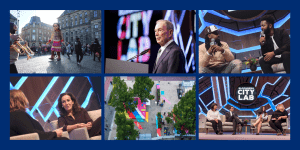 The Bloomberg CityLab summit took place in Amsterdam last week. For the participating mayors, city innovators, urban experts, artists, business leaders, and advocates, it was a time to share ideas for solving tough challenges, raise their ambitions, and reconnect in-person for the first time since the COVID-19 pandemic. Here are ten of the most memorable moments from the summit. 
Kindling a spirit of learning
Michael R. Bloomberg, founder of Bloomberg LP and Bloomberg Philanthropies, kicked off CityLab with a call for cities to learn from each other and test new ideas. When he was mayor in New York City, Bloomberg said, he borrowed ideas about bicycle infrastructure from Amsterdam, bus infrastructure from Bogotá, and fighting poverty from Mexico City. "The mayor's job is to open eyes to what's possible," Bloomberg said, and part of that is taking "the attitude that we don't know everything. Others have good ideas and [we can] learn from what others do." 
In that spirit, Bloomberg announced a new program for cities. The Bloomberg Initiative for Cycling Infrastructure, or BICI, will award ten global cities up to $1 million to create safe, interconnected, and innovative cycling infrastructure and provide sustainable mobility options to their residents. (Watch the video here.)
A call for a 'digital republic'
Amsterdam Mayor Femke Halsema welcomed global city leaders to her city with a challenge. Big tech companies have become too powerful in controlling the digital platforms that have become essential to public life, she said. Mayor Halsema called on city leaders to join forces with each other, with citizens, and with civic-minded tech companies to create a "new public space that promotes digital sovereignty." In this "digital republic," citizens will always be the owners of their own data, rules and regulations would come through a democratic process, and the value of connection would be shared among users rather than mined by companies. "The digital republic," she said, "can be the moonshot project that inspires progressive, innovative forces in our cities." (Watch the video here.)
'Please, stay with Ukraine'
The war in Ukraine took center stage at CityLab just as Russia launched missile attacks on cities across the country. Ukrainian mayors from Lviv and Bucha left the summit early to handle the crisis at home—and then re-joined again the next day by video link. Before heading home, Lviv Mayor Andriy Sadovyi jumped on stage, fist in the air: "Thank you for your support," he exclaimed. "We must believe in our victory. Victory together!" 
Kyiv Mayor Vitali Klitschko also addressed CityLab in a pre-recorded interview. Asked what he would want other mayors to know, Klitschko responded: "We appreciate the help: the economical support, the political support, the defensive weapons….Please, stay with Ukraine. It's key for peace and freedom in the whole region." (Watch the videos here and here.)
Transforming streets with art
During CityLab, 19 European cities learned they are receiving grants from Bloomberg Philanthropies to undertake projects that use art and design to improve street safety, revitalize public spaces, and engage residents. These "Asphalt Art" projects have been a huge success in other cities. Not only have they brought delight to city streets and underpasses, but they also have reduced car crashes with pedestrians and cyclists, and built innovative collaborations between city leaders, community leaders, and artists. "It's inspiring. It's impactful. It's economical. And it's not hard to do," said Bloomberg Philanthropies Chief Executive Officer Patricia E. Harris. "The ingredients for the projects are simple: paint, pavement, and passion."  (Watch the video here.)
Mexico City's digital ambitions
The digital transformation happening under Mexico City Mayor Claudia Sheinbaum is staggering. She's rolling out the largest free Wi-Fi system anywhere in the world. She's consolidated a confusing array of 40 different apps into one. And more than 4 million residents are using a new single sign-on key to access services.
James Anderson, who leads Government Innovation programs at Bloomberg Philanthropies, interviewed Sheinbaum about her ambitious digital agenda. She said it starts with her vision for a city that ensures all people can access the rights they deserve. "Digital innovation in Mexico City is a way to reduce brutal inequalities of the past," Sheinbaum said. The strategy is driven by a consolidated digital services agency, one that has brought software development in-house with a team of 40 mostly young city employees. This is saving millions of dollars and enabling the city to move faster. "It's very important to not involve the city in long-term contracts to private enterprises," she said. (Watch the video here.)
Celebrating city storytellers
Across the two-day CityLab program, Baratunde Thurston, host of the "How to Citizen" podcast, interviewed creative artists who are finding new ways to tell the story of their cities. Colombian muralist Nathalia Gallego Sanchez described her hopes to unify and engage residents of communities with massive outdoor paintings. Nigerian artist Peju Alatise discussed how her native Lagos influences her sculpture. And Chicago's Dilla Thomas talked about why he's taken to telling stories about Chicago history through short videos on TikTok. 
"Cities are people, and people are the stories that we know," Thurston said. "That's how we conceive of ourselves and our place in the world. And so who tells those stories matters just as much as what the story is." (Watch the videos here, here, and here.)
Walking with Amal
CityLab participants experienced what it's like to walk with Little Amal, a 12-foot tall puppet and art project that has now visited 85 cities and is changing the conversation about refugees. Amir Nizar Zuabi, artistic director for The Walk Productions, described the concept. Amal is a 10-year old girl. She's alone, and lost in this world. As she walks in your city, what would you want to do to welcome her and make her feel safe? And what would you want to learn from her?
Amal brought CityLab participants—and a drum line—for a joyous walk through central Amsterdam. "There's an unbelievable sense of welcome, and a very emotional reaction to her in the streets," Zubai says. "We're an excuse to get people together, thinking differently, and challenging a narrative or an instinct that they never really thought of. And when people are together consuming a story, a new community is created—a welcoming community." (Watch the video here.)
Leading in a time of protest
Protests against everything from COVID lockdowns to racial injustice have taken over city streets across the globe in recent years, sometimes resulting in violence. Bogotá Mayor Claudia López described how she listened to the underlying economic concerns fueling protests in her city, and responded with a jobs plan for women and youth and a basic income guarantee to prevent hunger. Unemployment and poverty both dropped precipitously, and the streets have calmed. "It took some time," she said, "but after a year, things are better."
Dealing with protests, especially in a national capital city, can be a "delicate balance," added Washington, D.C., Mayor Muriel Bowser. "Protest is in our city's DNA," Bowser said. "Americans from all over the country come to Washington, D.C., to protest." The mayor's job, she continued, is to give room for people to express hurt and anger, but also to maintain order. "With a lot of planning, it's achievable to give people the freedom to protest but not allow small groups within them to disrupt." (Watch the video here.)
Elevating data chiefs
More and more city halls these days are seeing the value in having a chief data officer on board, a trend that was celebrated on the CityLab stage. As Louisville's Grace Simrall said, the position became essential during the pandemic, when city leaders relied on data to make life-or-death decisions about how to reach residents with testing, vaccines, and other resources. "The chief data officer position was always of critical importance in Louisville," Simrall said, "but it became elevated into the topmost senior level position."
Justin Elszasz, chief data officer in Baltimore, has seen a similar rise in profile, especially during emergencies. Elszasz said senior leaders can make best use of a chief data officer when they see the role as critical for helping with decision making. That also means that chief data officers need to not only be good with the numbers but also good at telling stories about what the data mean. "That's what motivates people to change and to make decisions," Elszasz said. (Watch the video here.)
Staying cool with chief heat officers
As climate change brings record heat to cities around the world, a new position has been born in city hall to address it: chief heat officer. There's a good reason for that, said Eleni Myrivili, Chief Heat Officer for Athens, Greece. "Heat is a silent killer," Myrivili said. "Of all extreme weather phenomena, we lose the most people from heat today. And it's becoming more and more severe."
In Los Angeles, a big focus is what Marta Segura called "shade equity." Segura is L.A.'s new chief heat and climate emergency mobilization director. Her office studied the lack of shade trees in low-income neighborhoods and is laying out a data-driven plan to plant more trees in these neighborhoods. That plan caught the eye of Racheli Elkayam Rosette, manager of the innovation team in Eilat, Israel, where heat tops 110 degrees Fahrenheit six months a year. Rosette met with Segura the next day at CityLab to learn more about how Eilat could learn from L.A.'s experience. "This is something amazing," she said, "to be connecting like this at CityLab." (Watch the video here.)
City government leaders and staff: Be among the first to find out where and when next year's CityLab will be. Join the Bloomberg Cities Network today!